GMC Offers An All-Mountain Concept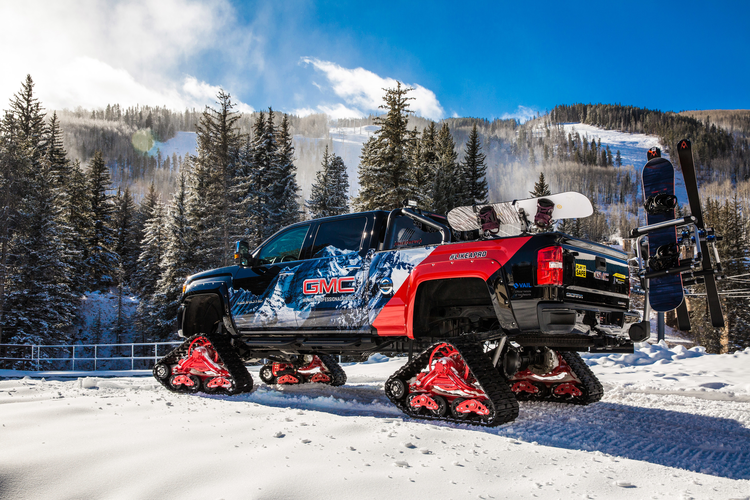 While most specially customized trucks are long on features and mostly void of real-world application, the GMC Sierra All-Mountain (SAM) takes a different path. The vehicle starts as an off-the-lot 2500HD that is transformed into a more affordable and easier to maneuver version of a Sno-Cat. These are the vehicles that many ski resorts depend on to move around in heavy snows to either prepare the grounds or potentially rescue injured or lost skiers.
The process is pretty straightforward. The SAM starts life as a Sierra 2500HD Crew Cab with either Denali or All Terrain model packages. There are a couple of engine options, but the most prominent would be the 6.6-liter Duramax turbodiesel V8 or GM's new 6.0-liter V8 with 360 horsepower and 380 foot-pounds of torque. The Hydra-Matic 6L90 six-speed automatic transmission seems to be the standard.
Other application-specific features include snowboard and ski racks, underbody LED lighting, and a soft roll-up tonneau cover. But the most impressive feature is also the most obvious and important. In place of 18" or 20" aluminum or chrome wheels are Mattracks and an extra six-inch lift kit that provides the traction for piloting snow-covered mountains.
Despite the higher perch, added horsepower, and tank-like resemblance, the SAM operates just like the truck from which it originated. The company and numerous reviewers have cited that the vehicles are easy to maneuver, they're just heavier and demand a much larger turning radius.
Although GM doesn't currently have plans for mass production, the SAM does present a desirable option to those looking for a tracked vehicle. From a cost perspective, it's less than a Sno-Cat or larger tractor-like option. In addition to the familiar controls, the Mattracks 150 Series of tracks bolt onto the Sierra 2500HD's standard eight-bolt hub.
Image Credit: GMC Pressroom/http://media.gm.com/media/us/en/gmc/home.detail.html/content/Pages/news/us/en/2017/nov/1121-gmc.html
Related