Fracking Continues in Louisiana's Haynesville Shale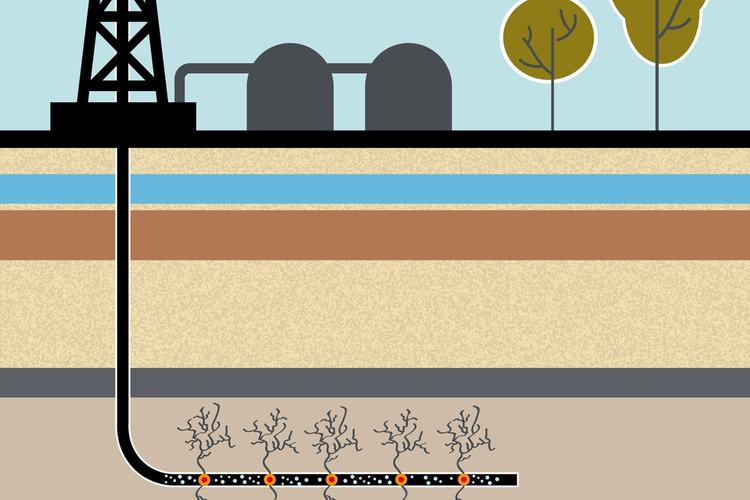 Fracking, or hydraulic fracturing, is the process of injecting a high-pressure mixture into rock formations to release natural gas, which flows out to the head of a well. The injected mixture typically consists of a combination of water, sand, and chemicals. Fracking is generally carried out via horizontal drilling through the rock layer to create new channels to the gas deposits or to extend existing ones. The process can also be carried out vertically. The term "fracking" refers to how the rock breaks apart or is fractured, by the high-pressure injection.
The Haynesville Shale
About a decade ago, the Haynesville Shale, discovered by Chesapeake Energy, rose to prominence as a major producer of shale gas in East Texas and Louisiana. At that time in 2008, it was believed to contain an estimated 250 trillion cubic feet of recoverable gas, thereby qualifying it as one of the largest, if not the largest, such deposit in the lower 48 states. A new U.S. Geological Survey report now puts the figure for the Haynesville formation — as well as the nearby Bossier Shale — at more than 300 trillion cubic feet.
The Haynesville Shale is overpressurized, meaning it initially produced very high production rates. But boom times turned to bust about four years later as gas prices plunged and drillers began to focus their attention on Texas, which had more liquids-rich opportunities. Those fields were offering a greater return than dry gas formations such as Haynesville. Plus, more acreage in Haynesville was held by production, so producers opted not to drill in order to keep it.
Looking Ahead for Haynesville
This lull is not expected to last, though. Thanks to the growing number of petrochemical plants, fertilizer factories, and gas-export terminals popping up along the Gulf Coast, the Haynesville Shale is once again a prominent formation. In fact, due to renewed interest from companies such as Chesapeake and its counterparts, gas production from Haynesville was up more than 20% in late 2017, to more than 7 billion cubic feet a day, as stated by the U.S. Energy Department. And the number of active rigs in northern Louisiana parishes and the Texas part of the formation tripled to more than 44, according to oilfield services company Baker Hughes.
Chesapeake is now about to enter familiar territory: The company is attempting to extract more gas through the drilling and fracking of longer wells, and, using new methods, plans to refrack old wells with waning production. Already, Chesapeake produces more than 1.2 billion cubic feet of gas each day in the Haynesville formation.
The building boom, however, isn't the only factor driving the drilling upswing; significant cost reductions are also playing a major role. Because its rocks are the deepest in the country — some more than 15,000 feet under the surface — Haynesville once had the highest well costs in the contiguous states. But the move toward long, lateral wells has once again made fracking here highly lucrative. Rising demand for gas has also played a role. According to an Energy Department forecast, the use of natural gas will outpace that of every other fuel source between now and 2040, as demand picks up among industrial titans and natural gas-fired power plants outmuscle coal-fired ones.
What's Next
As the Haynesville Shale continues to regain its place in the world of fracking, natural gas continues to provide versatile, accessible fuel for a huge range of applications. And the low cost and abundance of natural gas, plus the fact that it burns twice as cleanly as coal, point toward a bright future for the industry as a whole.
Resources:
Related