Exploring the Increase in Modular Construction Demand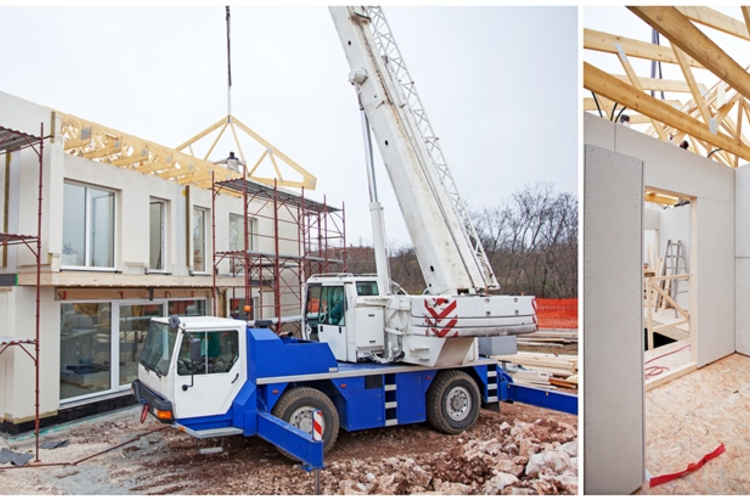 When the recession of 2007-2009 moved in, the construction industry took a big hit. The total value of construction work dropped by 37.1%, and nearly 2 million construction workers lost their jobs. In the years since, increased economic confidence and lower unemployment rates have brought about stable incomes, elevated consumer spending, and created positive business outlooks that are playing a big role in the rebound of the construction industry.
Economists for the national trade association Associated Builders and Contractors forecast an increase in nonresidential construction spending of 27% by 2022. Broken down by industry, the highest growth in construction spending is anticipated for the manufacturing, commercial, health care, education, and energy industries.
Projected Growth for Modular Construction
Modular construction is playing an integral role in the revival of the construction industry. Also referred to as prefab construction, modular building is the process of building off-site in a controlled manufacturing environment. Individual modules are built and shipped to the final construction site, where they are assembled and finished — all on an accelerated timeline.
The Modular Building Institute's Permanent Modular Construction Annual Report shows that permanent modular construction accounted for 3.18% of the value of new commercial construction in 2016. The industry goal is to reach 5% of the commercial construction market share by 2022.
The acceptance of these alternative building methods among key decision-makers in the industry will have a great impact on the growth of modular construction. A recent FMI Prefabrication and Modularization in Construction Survey reported that:
The amount of project work making use of prefab construction tripled from 2010 to 2016.
Contractors using prefab on more than 50% of their projects are more effective than those making less use of prefab building techniques.
35% of contractors in the U.S. are implementing modular construction methods in the design phase of the building process.
Nearly 40% of U.S. contractors said that prefab and modular construction is part of their future strategic construction initiatives.
Modular Construction vs. Traditional Construction
So what exactly is leading more and more construction industry professionals to incorporate modular construction into their business? Put simply, modular construction offers several advantages over traditional, on-site construction methods. Key benefits include:
Shorter project schedules — The overlap of construction activity — both off-site and on-site — during the modular building process has a big impact on the construction schedule. As opposed to conventional construction, in which site preparation must be completed before building can begin, prefab construction can be completed in about half the time.
Reduced costs — Because the bulk of modular construction takes place in a climate-controlled, protected manufacturing environment, material loss due to weather conditions and theft are greatly reduced. An assembly line construction process also allows modular builders to streamline the purchasing and inventory of raw materials. And while leftover building materials can easily be used for the next modular project, excess materials are often trashed on a traditional construction site. All of these factors play a part in reducing the cost of building materials.
Improved quality control — During a modular construction project, specialized inspections are done as each module moves down the assembly line. This comprehensive quality control allows issues to be identified and corrected before they affect other areas of the project, saving time and reducing costs. When the building is ready to be assembled on-site, each module holds a proof of compliance, ensuring that additional inspection is not needed.
Green building practices — The modular building construction process promotes green and environmentally friendly practices by minimizing material waste, requiring fewer deliveries to the construction site, and reducing construction site environmental disturbances. Plus, entire modular buildings can be removed, renovated, and repurposed, completely avoiding the need for new raw materials and energy usage.
Building the Foundation for Success
To learn more about the benefits of modular construction for your next building project, discuss options with a modular building professional in your area.
Image credit: JRP Studio/Shutterstock.com
Related