Exhausted Employees Costing Companies Millions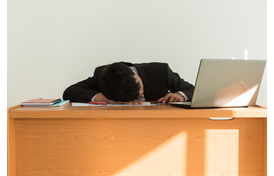 Recently unveiled during the National Safety Council's Congress and Expo this week, are findings showing how a lack of proper rest is hurting the competitive efforts of U.S. companies. The research was conducted by the National Safety Council and Brigham Health Sleep Matters Initiative.
The report's findings show that a company with 1,000 workers stands to lose $1.4 million annually due to absenteeism, diminished productivity, and healthcare costs stemming from tired employees. A key point of the survey is the growing number of these individuals with undiagnosed and untreated sleep disorders. These conditions contribute significantly to the $80 million in fatigue-related costs that can accrue on an annual basis for the average Fortune 500 company.
Additional data can be obtained by utilizing an online resource correlating with the research, entitled the Fatigue Cost Calculator for Employees. This tool can provide a quick look at both the risks to profitability, as well as the ROI that can accompany sleep health education programs which test for disorders like obstructive sleep apnea and insomnia.
According to the NSC, 43 percent of Americans obtain insufficient sleep, and 76 percent say they feel tired at work. These numbers contribute to study findings that indicate employers can face as much as $3,000 in extra healthcare costs each year if an employee continues to work with untreated obstructive sleep apnea. Additionally, an employee with untreated insomnia, who is present on the job but not productive for more than ten full days of work per year, can generate up to $2,000 in increased healthcare costs.
Related