Drone Service Targets Last-Mile Logistics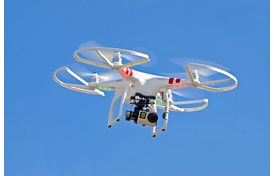 While their initial applications were focused on removing humans from dangerous military missions, the use of drones continues to change. This includes evolving from the delivery of bombs and munitions to the server of food and medical supplies.
Portugal-based Connect Robotics was founded by Eduardo Mendes and Raphael Stanzani in 2015. Eduardo was developing software to control and navigate unmanned aerial vehicles for his doctorate, and decided to turn it into a business. The two are now exploring potential opportunities for their unique drone controls in the last-mile delivery market.
This would include the transport of food and medical supplies to remote areas, as well as commerce opportunities for any other business. According to the company's founders, the ability to avoid rising fuel prices and eliminate delivery personnel could reduce costs by 40-60 percent in comparison to conventional couriers.
Perhaps a more significant benefit is the time-savings. The very nature of a drone means it doesn't have to worry about traffic jams, infrastructure issues, human error or weather. Recently, a delivery that would have taken a driver in an automobile 30 minutes was performed in three by a drone.
The drone's onboard controls are housed on a smartphone, which connects with the craft via a cloud-based server that sets the flight path, follows the drone and shows its position in real time. The use of readily available hardware like a smartphone allows Connect Robotics' software to be used with drones from multiple manufacturers in accommodating different parcel sizes and delivery requirements.
While their current offerings are still being validated, the company's long-term goals include developing ports where drones release packages into storage lockers, generate delivery receipts, and automatically charge their batteries. The cost savings that accompany this model could make it the future of small commodity delivery.
Related