Drone Deliveries Taking Place in U.K. and Bay Area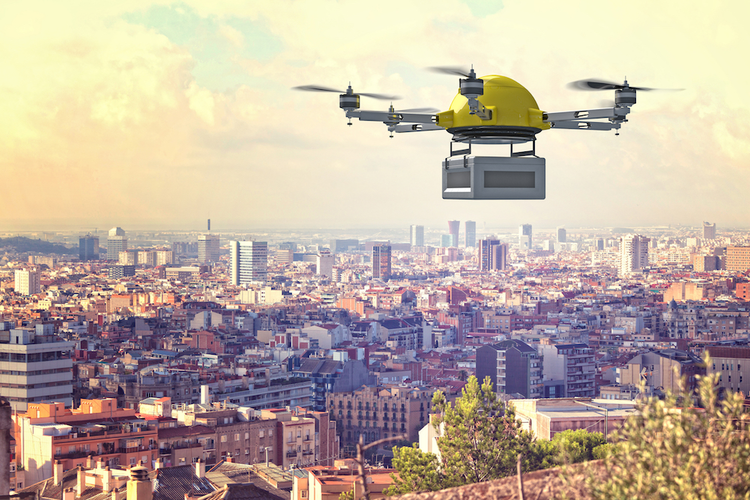 In parts of the U.K. today and in the San Francisco Bay Area by the end of the year, consumers are being afforded greater control over package delivery via Starship Technologies drones. The company announced its new service launch on October 31.
The company described its initiative as "the world's first commercial rollout of autonomous package delivery on the ground," promising "hundreds of robots from Starship delivering packages straight to consumers' front doors."
The new service requires customers to sign into Starship's app and select a Starship location as their "personal address." Once the package arrives to Starship, the consumer is notified and can select a time and location for drone delivery nearby, while also being able to track the journey in real time using the app.
"Today, more than ever, people lead busy and diverse lives," stated Starship's CEO Lex Bayer. "The hassle of needing to rearrange your life for a delivery will become a thing of the past. No more having to switch your working from home day, reschedule meetings, visit a locker, drive to a post office, or contact a courier all because of a missed delivery. Starship gets packages to consumers when and where they want them."
Starship expects to make 15 to 25 deliveries daily from 7 a.m. to 11 p.m. within a 3-mile radius of its facilities in the Milton Keynes area of the U.K., SupplyChainDive reported. The robots are able to make the trip using "many sensors, including 10 cameras, ultrasound sensors, radar, and GPS," according to Henry Harris-Burland, vice president of marketing for Starship Technologies.
Why Package Delivery Drones?
Starship's press release focused heavily on consumers' fear of package theft, stating:
"Package theft happens to 42% of city dwellers, 26% of suburbians, and 19% of people who live in rural areas."
"Victims of package theft are spending on average $200+ to replace each package."
"41% of respondents avoided purchasing online goods like electronics because they feared packages would be stolen."
Yet the package delivery drone trend is expected to take hold for other reasons as well. This form of delivery can also:
Cut down on delivery time
Reduce energy use associated with delivery
Reduce pollution from combustion-engine ground transportation.
It's no wonder the Federal Aviation Administration (FAA) is predicting that as many as 450,000 unmanned aerial vehicles, or drones, could be operating in the domestic airspace by 2022. The agency estimated the current number at about 110,000.
Nevertheless, the package delivery drone is not the only solution vying for market share in this space. Digital door locks, such as those offered by Latch and Amazon Key, combine cameras and tracking technology to let consumers receive packages directly in their homes while out of the house. And in 2017, Walmart purchased the same-day delivery company Parcel as a possible last-mile delivery solution.
Looking Ahead
As drone delivery becomes a reality, more and more businesses will be looking for ways to capitalize on this exciting new technology. In the meantime, consumers and companies alike will be keeping an eye on the latest trends and advances.
Image credit: gualtiero boffi / Shutterstock.com
Related