Deadline Approaching For 30 Under 30 Supply Chain Stars Recognition Program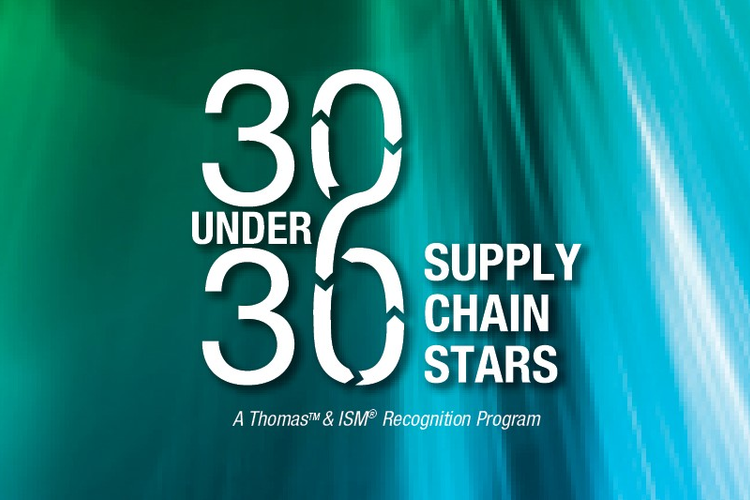 The last chance to recognize an exceptional young supply chain professional for the 30 Under 30 Supply Chain Stars program is December 3. The program recognizes the top 30 individuals who are 30-years-old or younger for their leadership, innovation, collaboration, and other outstanding attributes in the supply chain management field.
All supply chain professionals across the globe are eligible to be nominated. Winners will receive a one-year membership to ISM®, complimentary admittance to the ISM2018 conference in Nashville, Tennessee, and a Thomasnet.com® Team Training Package.
One of the Stars will be designated as the Megawatt Winner and will also win an all-expense-paid trip to ISM2018 for themselves and their nominator.
Anthony Garwood with Oliver Packaging and Containers was one of the 2016 Rising Supply Chain Stars, found the program extremely rewarding.
"The program has been an amazing experience," Garwood said. "Attending the conference was a great opportunity to meet so many other inspiring people who also won the 30 Under 30 Award. It's an honor to be a part of that group, and it certainly opens doors for those who are potentially interested in making a career change."
The program, now its fourth year, was founded jointly by Thomasnet.com® and ISM®. The program's mission is to showcase the next generation of supply chain professionals and to demonstrate that supply chain management and procurement can be a viable and exciting career choice for young professionals.
Rita Lieberman, Director, Marketing Communications for Thomas, described the challenge of attracting the next generation to the profession.
"As baby boomers reach retirement age, the supply chain management field needs to fill their shoes with young talent," Lieberman said. "The 30 Under 30 Rising Supply Chain Star program showcases the accomplishments of young professionals and creates excitement for their field. This buzz positions supply management and procurement as viable and desirable career options for the next generation. We are thrilled to be accepting nominations for our fourth class of supply chain stars".
To learn more about the program, or to nominate a young professional working in the supply chain, visit 30under30.thomasnet.com.
Related