Connected Manufacturing and the Industrial Internet of Things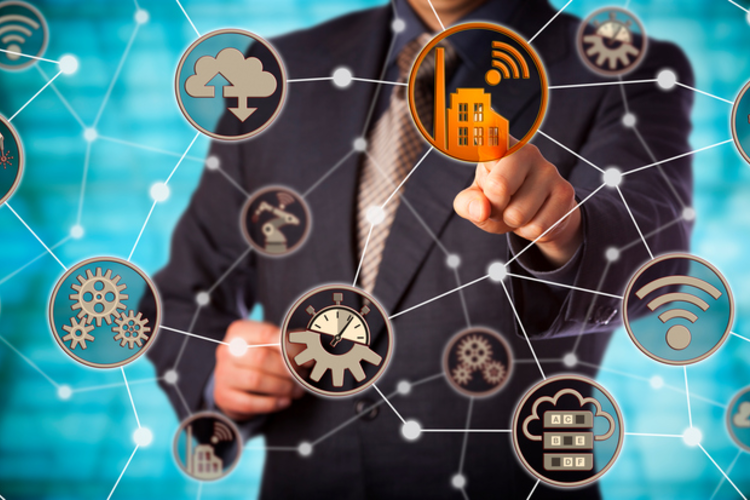 Once considered an abstract concept, the digital world now plays a concrete, critical role in many day-to-day operations. In fact, almost everything we use and interact with today is somehow connected to the Internet, creating the concept of what is called the Internet of Things (IoT).
This network of interconnected devices – from cars and thermostats to appliances and heavy machinery – enables individual objects to collect and share information with one another. This kind of connectivity and automation can significantly improve equipment performance and efficiency, saving users both time and money.
IoT in the Industrial Sphere
While the IoT is being used more and more often in homes, schools, and offices, the Industrial Internet of Things (IIoT) also has tremendous potential, specifically for the manufacturing sector. By synthesizing data once stored in individual devices and linking together multiple devices, consistent connectivity can improve a business's performance, productivity, and profit.
As all manufacturers know, high-performing equipment bolsters the quality of manufacturers' products and the reliability of operations while ensuring workers' safety, so properly maintaining equipment should be a top priority. But research indicates that more than 80% of maintenance performed in the manufacturing sector is either reactive — part of a break-fix formula — or preventative, which is often unnecessary.
Such approaches can be costly for manufacturers, leading to unnecessary labor, prolonged disruptions in production, and difficulty restoring operations. With connected manufacturing systems, however, businesses can quickly collect the data they need to develop better maintenance procedures and improve operational efficiency.
Actuators in the IoT
Though many types of manufacturing equipment now connect to the IoT, actuators are proving to be particularly effective. A mechanical part or instrument used to move or control a system or mechanism; actuators are critical for optimal machine operation, so fully understanding how they function can be invaluable. Internet-ready actuators collect data and provide real-time feedback that businesses can easily and quickly access, analyze, and share to assess machinery's functionality — allowing manufacturers to prevent major breakdowns in operations, reduce downtime during maintenance, eliminate unnecessary maintenance, and optimize performance.
Connected manufacturing can also help facilities in different areas share data with one another and the supply chain at large. With synchronized systems, manufacturers can easily enhance operational stability, as well as product consistency. IoT connectivity also enables businesses to operate on a much broader scale — which is increasingly important in today's evolving global marketplace — while giving them the freedom to monitor their equipment remotely.
Challenges of Implementing Internet-Ready Actuators
Though there are significant advantages to using internet-ready actuators, there are still some obstacles that must be overcome. For example, the process of redesigning pneumatic actuators to have Ethernet ports for internet connection changes actuators' dimensions — meaning they may no longer meet industry standards set by the NFPA. Also, the individuals who operate the machinery may not necessarily understand how the technology involved in connected manufacturing works, hindering their ability to maintain and utilize the equipment properly.
However, various initiatives are being developed to address these issues, with ongoing research and development underway to produce wireless-connected actuators. Some manufacturers are using sensors to gather data to avoid altering the design of the actuators themselves. Also, producers of internet-ready actuators are working to make these products user-friendly, and they're striving to provide adequate training for the individuals who will ultimately use them on a day-to-day basis.
Working With Internet-Ready Devices
The benefits of working with connected devices in the industrial sector far outweigh the challenges. Internet-ready devices, like actuators, are transforming the manufacturing sector as we know it, improving critical aspects of the industry, including automation and production. These versatile devices offer manufacturers better access to critical data, optimized performance, and broader connectivity, thereby improving the efficiency, growth, and bottom lines of their businesses. Industry experts are expecting this trend to grow as more and more manufacturers realize the many advantages of IoT in the industrial space.
Baelz North America an industry-leading supplier of actuators, control valves, heat exchangers, automatic skin packages, and other automation equipment, is currently working to incorporate sophisticated IoT technology into their products. To learn more about their offerings, check out their comprehensive actuator catalog.
Related