Compressed Air-Powered Vehicles Offer Eco-friendly Transportation Solution
Welcome to Thomas Insights — every day, we publish the latest news and analysis to keep our readers up to date on what's happening in industry. Sign up here to get the day's top stories delivered straight to your inbox.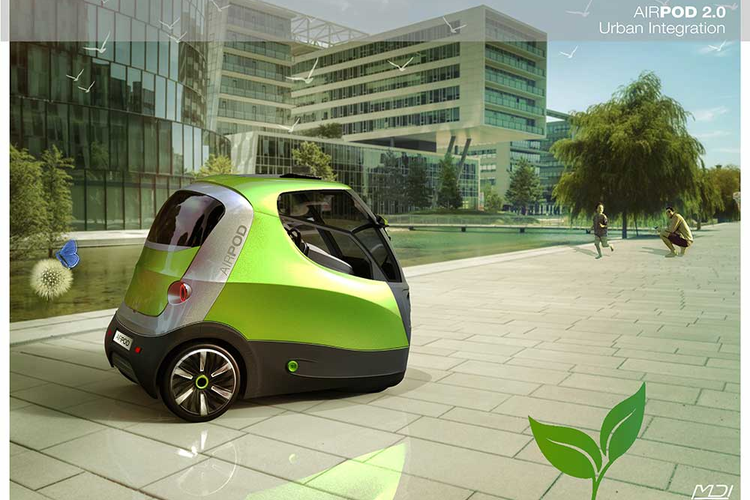 The majority of vehicles driven around the world today are gasoline-powered passenger cars. However, because of its carbon dioxide, nitrogen oxide, and unburned hydrocarbon emissions, gasoline is also responsible for a large proportion of modern air pollution. Many global organizations have targeted passenger cars as a means of reducing greenhouse gas emissions.
Researchers and manufacturers alike are pursuing efforts to find efficient transportation alternatives to traditional petroleum-powered automobiles. Eco-friendly and highly effective for local transportation needs, compressed air-powered vehicles (CAVs) — cars that run on air power — are one promising result of these initiatives.
The History – and Future – of Compressed Air-Powered Vehicles
The use of compressed air in the transportation industry stretches back to the 19th century when compressed air powered small trams in Europe. The original patent for the air-powered car, approved in 1979, belongs to inventor Terry Miller.
In 2007, Tata Motors spearheaded the development of a new type of CAV. Tata signed an agreement with France-based Motor Development International (MDI) to create the AIRPod and four other air-powered vehicles. MDI claims their take on the CAV would have the capacity to travel at speeds up to 68.3 mph for distances up to:
86.9 miles in the city
49.7 miles on the highway
Reportedly, Tata Motors' new CAV will be launched in India within the next three years. There would be many potential benefits for consumers who choose to drive air-powered cars, including:
Fuel-efficiency: CAVs will weigh less than 2,000 pounds, making them more fuel-efficient than comparable vehicles.
Adequate speed: CAVs will have standard speeds of at least 40 mph, more than enough for most urban driving.
Significant savings on fuel costs: CAVs like the AIRPod only incur fuel costs of $1 per 124 miles.
In overpopulated countries, compressed air solutions may also one day be utilized in public transportation applications, such as buses and trains.
Compressed Air-Powered Vehicle Fuel Cycle
The underlying principles of the fuel cycle for the typical compressed air-powered vehicle are relatively simple. Highly compressed air from stationary compressor stations is transferred to a storage tank within the vehicle. Similar to compressed air tools or other pneumatic devices, this air is then converted to mechanical power by a pneumatic motor and used to drive motion in the vehicle's wheels.
Compressed air in such an application does not act as a fuel in the same sense as gasoline but rather functions as an energy source and storage medium that can be controlled during vehicular operation.
CAV manufacturers can produce vehicles at 20% less cost, as the design renders some typical car components unnecessary, including engine cooling systems, mufflers, and spark-based ignition systems.
Compressed Air Vehicle Challenges
There are a few disadvantages to CAV production, however. Compressed air systems lack the torque power produced by traditional engines, and compressing the air itself does incur some costs. CAVs lose energy when electrical power is converted to compressed air and when fuel is used to power the electrical generators.
Another potential drawback to compressed air-powered vehicles is the amount of time needed for full refueling. Consumers that use low-end, conventional air compressors may have to wait hours for their CAV to refuel. On the other hand, specialized air compression service stations can refuel a CAV within minutes.
Compressed air offers one potential solution for the transportation industry to combat pollution, reduce costs, and create efficient ways to commute in urbanized areas.
Image Credit: AIRPod / Zero Pollution Motors
Related