China is Literally Building New Trade Routes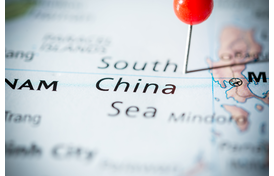 Earlier this week the United States, Australia, and Japan collectively denounced China's continuing efforts to control the South China Sea and its increasingly vital shipping lanes. In particular, the three countries continued their criticism of China's efforts to construct man-made islands that offer strategic military and economic advantages.
For decades, China has claimed ownership of nearly the entire sea. In addition to being a throughway for $5 trillion in goods annually, it's speculated that vast amounts of oil and natural gas lie under the sea. China's claims overlap with Vietnam, the Philippines, Malaysia, and Brunei, all of which belong to the Association of Southeast Asian Nations (ASEAN) bloc. Other key members include Taiwan and the Philippines.
China's approach to working with the other ASEAN countries is dismissive at best. While it has verbally acknowledged a need to establish operating procedures in the area, it insists that these codes be non-legally binding. Those in the ASEAN bloc are obviously smaller than China and reliant upon it as both a supplier of resources and buyer of their exports. So standing up to this Big Brother is a daunting task.
This is where the aforementioned triumvirate, with their own economic interests, enter the fray. Not only do they want the proposed code of conduct to be legally binding, but they've described China's activities as the "militarization of disputed features in a disputed sea." They also called on China to respect an international arbitration ruling last year that dismissed much of the country's claims in the sea.
The Philippines had been one of the most vocal critics of China, but recent infusions from Beijing worth nearly $10 billion dollars has the island country playing down the verdict in favor of closer ties to the mainland. This includes the continued work being done to the Spratly Island chain. Originally reefs, additional dumping of sand and other materials have transformed them in to the islands of Subi, Mischief, and Fiery Cross – all of which are currently under China's control and subject to increased military activity.
Related