Building a More Sustainable Construction Sector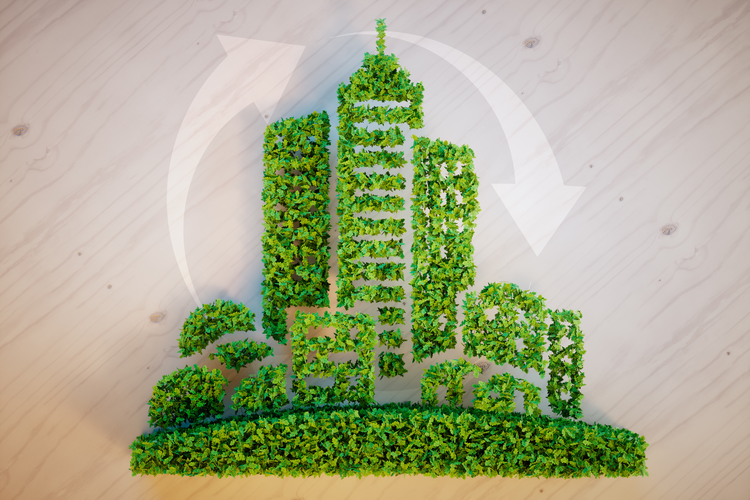 The construction industry has a huge environmental footprint. The U.S. Green Building Council (USGBC) has found that the construction industry accounts for 39% of all CO2 emissions in the United States alone — more than any other sector and more than any other country, except China.
These figures are staggering, but there are opportunities to make the industry more sustainable. According to a report by BIS Research, the global market for sustainable construction materials is expected to grow by 11.6% through 2026, making it a $523.72 billion industry.
Recent Efforts to Create a More Sustainable Construction Sector
While the uptick in sustainable construction initiatives is promising, it's been borne of necessity, said Rob Fleming, co-creator and director of the Master of Science in Sustainable Design Program at Jefferson (Philadelphia University + Thomas Jefferson University), at the recent NY Build Expo in New York.
The heightened interest and investments in sustainable building, he said, are "not a trend, but an imperative." Fleming said during one of the annual expo's panel discussions, "Redefining Sustainability Across the Sector."
From 3D-printed houses and recyclable building materials to closed-loop building approaches and wooden skyscrapers, the construction industry is in the midst of a revolution, with many companies realizing the benefits — both monetary and reputational — of implementing greener practices.
"Lots of companies now have very aggressive goals," said Kari Hewitt, director of sustainability at VHB's Environmental Planning & Sustainability Practice, citing the many U.S. businesses now aiming to be carbon-neutral by 2020.
Improving Building Sustainability From the Inside
Aside from individual business goals, cities and regions across the country are also taking initiative, aiming to spread awareness of the various options available for more sustainable living and more eco-friendly purchases. While the actual building process contributes heavily to emissions, the practices that take place inside the completed buildings can also have a major environmental impact.
The New York hospitality industry, for instance, is making gains in reducing food waste and the use of plastics, said Kimberly Brown, co-founder and principal at New York-based Strata Architect PLLC. "There's this beautiful movement throughout the city," she mused. Even low-tech initiatives, such as filling buildings with plants to improve air quality, can make a difference, Brown said.
These types of efforts are especially important in New York, added Jennifer Urrutia, sustainability project manager at JRM Construction, as most emissions in this city come from buildings rather than transportation, as is the case in many other regions.
Bringing About Greater Sustainability in the Building Process
When actually designing a building, though, it's critical to think about the end user, said Furqan Malik, project manager at Zoi Contracting Inc. Not only does this allow for a more user-friendly, inviting experience, no matter what a building may be used for, but it also helps ensure the most efficient, sustainable design, use of materials, and building processes.
Before any of this even gets underway, it's critical to establish open lines of communication among all involved parties. Stakeholders, community members, consulting firms, and any others taking part in the building process, Fleming said, must be able to communicate and collaborate effectively in order to bring about greater sustainability.
And as we look ahead, he said, we must focus on teaching the next generation of builders, designers, and architects to think on a wider scale. Right now, he noted, "We're not teaching students to think holistically; we're not teaching students to think globally."
Citing this as a main barrier to greater worldwide sustainability, he stressed the importance of providing the younger generation with the tools and knowledge they need to create real change in today's rapidly evolving industry.
The Future of the Sustainable Construction Industry
As the construction industry — and industry as a whole — shifts and evolves, the focus on greater sustainability is likely to continue gaining traction. In committing to a greener future, architects, builders, businesses, and individuals have more options at their disposal than ever before, and as we move further into 2019, industry experts and interested novices alike will be keeping an eye on the latest developments.
Image Credit: petrmalinak / Shutterstock.com
Related