Big Bot on Campus: PepsiCo's New Snackbots Reach Busy Students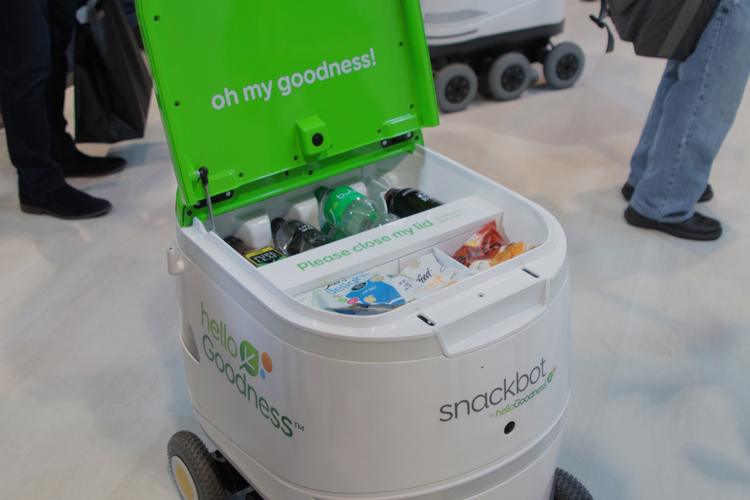 Meta: PepsiCo is bringing snack-delivery robots to the University of the Pacific in Stockton, California. The self-driving snackbots are designed to deliver "better-for-you snacking."
Life on a college campus gets pretty busy. Sometimes that means grabbing food on the go and making less-than-healthy choices. But PepsiCo is hoping to make a difference on at least one university campus, with the recent rollout of the company 's on-demand snackbots.
PepsiCo, in collaboration with Bay Area-based Robby Technologies, is piloting a fleet of three to five self-driving robots at the University of the Pacific in Stockton, California. The outdoor bots are said to bring "great-tasting, healthier snacks and beverages direct to students, making better-for-you snacking ultra-convenient."
The snackbots deliver products from the food and beverage giant's Hello Goodness portfolio of goods, which includes:
Smartfood Delight
Baked Lay's
Sun Chips
Pure Leaf Tea
bubly
LIFEWTR
Starbucks Cold Brew
PepsiCo stated that the company aims to extend the reach of this "curated convenience" through many different formats to deliver 50,000 touchpoints by year's end. The Hello Goodness line may soon also include plant-based nutritional bars, a result of the Health Warrior acquisition in October 2018.
Good-for-You Robotic Technologies
The autonomous delivery bots combines healthy snack options and advanced innovation, said Scott Finlow, vice president of Innovation and Insights, PepsiCo Foodservice. "Snackbot is the next generation of us delivering convenient, healthier products," Finlow told USA Today. "It represents a really important intersection of consumer demands and needs and also the evolution of technology."
University of Pacific staff, faculty, and students can use a snackbot app to order food and drinks from 9 a.m. to 5 p.m., and there are more than 50 designated delivery areas on the university's 175-acre campus. The snack costs, and fees associated with the service, were not released.
PepsiCo stated that the bots have a "range of more than 20 miles on a single charge, and are equipped with camera and headlights … to see and navigate carefully in full darkness or rain, as well as all-wheel-drive capabilities for handling curbs and steep hills."
There are no current plans to expand the concept to other campuses, according to FoodDive. Yet with the snacking category at $80 billion and growing at 3%, bringing more snacking options to today's busy students is likely a sound move.
PepsiCo isn't the only undergrad-friendly food company turning to robots for delivery help. Also in California, Zume's pizza robots promise to cut delivery times from five to 20 minutes. Also, Postmates' robot late-night delivery service, in Washington, D.C., makes use of Starship Technologies robots.
The Food of the Future
As robotics and automation become further integrated into our daily lives, whether on job sites or college campuses, added conveniences such as PepsiCo's new snackbots will likely be popping up more and more. The company's first foray into snackbots on college campuses signals a heightened focus on reaching consumers in their day-to-day lives, meeting people where and when they desire a convenient, quick snack.
As industry continues to shift and evolve, consumers and companies alike will be keeping an eye on the development of such technologies.
Image Credit: yvasa / Shutterstock.com
Related