Axial Air Gap Cooling With Micro Fans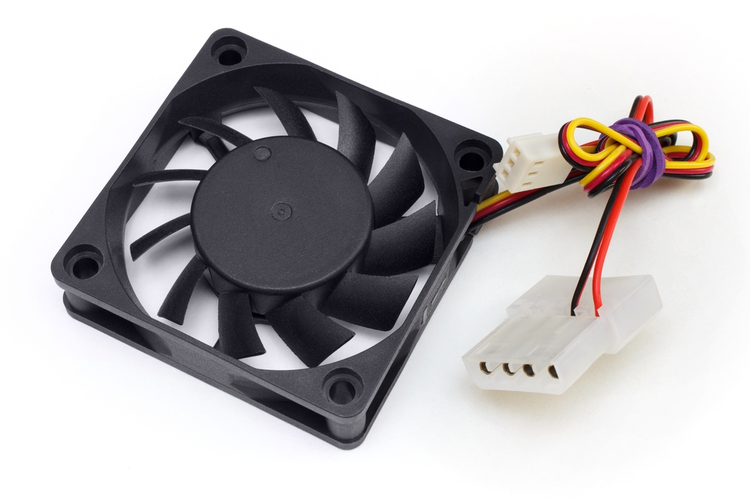 As our everyday devices become smaller and smaller, the components used inside them must scale down in size as well. This rule applies to many of today's cooling products, which, to fit industry's shifting needs, have become much more compact and lightweight while also consuming less power and reducing heat generation. In applications with limited space and restricted power budgets, micro fans are an ideal alternative to traditional cooling solutions.
Some of the largest micro fans available are about 30 millimeters wide, or about the length of a paper clip. The smallest micro fans may be about 15 millimeters wide, smaller than the face of a dime. These innovative fans can be customized to satisfy a range of applications requiring highly effective miniature cooling stations.
Traditional blowers, a conventional cooling solution, are typically fitted with silicon steel motors with radial air gaps. However, miniaturization is difficult to achieve, their operation is inefficient, and power loss is more significant at higher temperatures. Micro fans that use axial air gap technology, on the other hand, are not only much more compact, they're also more energy-efficient. Additionally, they offer a longer operating life, and easily retain all of their power, even at high temperatures.
Axial Air Gap Vs. Radial Air Gap Technology
There are several key differences between axial air gap technology and radial air gap technology. An air gap is the space between the rotor and the magnets in a motor. Whereas the flux in axial flux motors runs parallel to the output shaft, along the axis of the shaft, the flux in radial flux motors runs in and out from the center of the shaft, on the radius (perpendicular to the shaft).
Axial air gap motors differ from enclosed motors in that they're very short in length but relatively larger in diameter. Axial air gaps run on the same plane as the rotors. Typically called "flat" or "pancake" motors, these models are an ideal solution for manufacturers requiring compact motors in large batches. Axial flux designs are highly sought after for two main reasons. First, they have a higher torque due to their wide air gap area. They also have shorter flux paths, meaning they have fewer magnetic losses, which, in turn, result in higher torque and efficiency.
Radial flux-type motors, however, can develop very high power thanks to their ability to run at high speeds. These models also lend themselves well to hybrid applications.
Common Applications for Micro Fans
Micro fans are found in a wide range of applications, including:
Portable medical devices
Portable computers and electronics
LED lighting
Smartbooks and tablets
Portable hard drives
Internet protocol cameras
High-speed memory modules
Closed-circuit television (CCTV) security surveillance systems
Pocket projectors
Micro fuel cells
GPS devices
Portable gas and particle detectors
Portable plasma generators
Portable air-quality monitoring devices
Ventilation and defrosting
Mask, helmet, and glass ventilation solutions
Solar and wind energy devices
In a more specific example, micro fans may be installed into a mobile phone case, with sensors used to detect when the temperature of the phone has risen too high. This temperature condition activates the fans to cool down the device, helping to save the battery from degradation caused by prolonged heat exposure.
Choosing the Right Type of Micro Fan
When selecting a cooling device for a particular job, it's important to consider the specific application at hand and carefully weigh the pros and cons of different fan types. In many of today's technologies, micro fans serve as an ideal solution, offering high power and long life with a compact, highly reliable design.
To ensure you choose the right fan type for your project, be sure to partner with a cooling expert who can guide you through each step of the selection process.
Resources:
Image Credit: Ruslan Rizvanov/Shutterstock.com
Related