Autonomous Robots Successfully Plant, Harvest Barley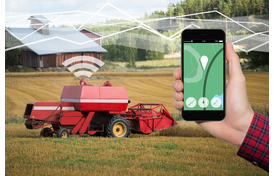 Feeding a growing global population has become a leading social and cultural challenge for 21st Century scientists and engineers. In addition to improving preservation capabilities to prevent food spoilage, many are looking at ways in which unmanned, robotic equipment could be used to improve yield rates from smaller acreage and improve the overall efficiency of farming in a wide range of climates and geographies.
Some of the challenges long associated with robotic farming have been teaming wireless communication with mechanical and hydraulic systems. Additionally, the costs linked with retrofitting equipment could negate any gains in production, with some projections showing these types of controls would add up to 20 percent to the total cost of current equipment.
However, researchers at Harper Adams University and the agricultural company Precision Decisions recently announced that they were able to plant and harvest 1.5 acres of barley without one human stepping foot on the field. All of the work was completed by robotic farming techniques.
The team used a collection of autonomous vehicles and aerial drones that allowed for greater precision in seed planting depth, chemical applications for protecting against disease and insects, and applying fertilizer. More precise use of these materials resulted in less waste and less negative impact on the soil. Another important aspect of the group's approach was the type of equipment they utilized.
Instead of working with larger tractors and combines that, in theory, would be able to cover more ground in less time, they used smaller machines. This approach aided both the ability to be more precise with planting, managing, and harvesting the barley, as well as in minimizing human interaction.
Next, the team will try to replicate their experience with a winter crop, possibly wheat. But first, they'll attempt to brew some beer from this most recent barley crop.