Automation Instrumentation for Energy Savings in Breweries
Welcome to Thomas Insights — every day, we publish the latest news and analysis to keep our readers up to date on what's happening in industry. Sign up here to get the day's top stories delivered straight to your inbox.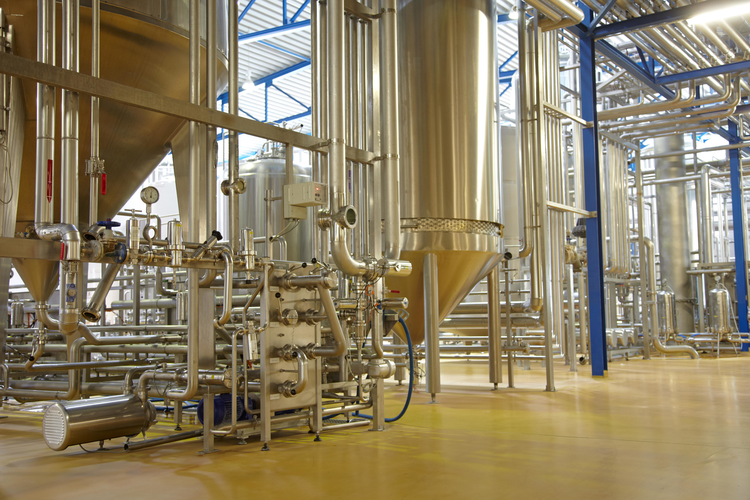 Critical for ensuring optimal energy savings during food and beverage processing, automation instrumentation helps provide high levels of accuracy and repeatability in a wide range of applications. For beer brewing processes, in particular, the use of flow, level, and temperature measurement sensors allows companies to streamline operations easily.
Flow Instrumentation
Use of flow instrumentation in beverage applications ensures superior measuring accuracy and long-term repeatability, optimizing overall process control. This accuracy is especially important in brewing processes, which require large amounts of water and gas. For example, thermal mass flowmeters allow for highly accurate measurement of the natural gas injection into boilers during the water heating process, as well as reliable measurement of the biogas generated by the brewery's wastewater.
Metering systems, such as Endress+Hauser's Proline® Promass Coriolis meter, can provide mass flow, temperature, concentration, viscosity, and density readings for CO2 gas injection. These devices are also effective for dosing measurement — allowing for more energy-efficient beer bottling/kegging and soft drink production — while integrated temperature, density, and viscosity functionality provide easy monitoring capabilities.
Using high-quality flow metering systems to measure parameters such as energy usage, compressed air, process heat, and refrigeration can allow for significant cost and energy savings, making it possible to achieve a power consumption of 1.5 kilowatt-hours per hectoliter of beer produced.
Level Instrumentation
Tanks are also essential for many processes in the brewing industry since a variety of liquids must be stored, balanced, and mixed. These liquids require reliable liquid level limit detection; a range of instruments, such as point level switches, can be used for detection as tanks receive liquids. Offering overfill protection for receiving tanks, balance tanks, CIP storage containers, raw ingredient bins, and other process vessels, level instrumentation allows for significant energy savings.
Ultrasonic level transmitters, meanwhile, are ideal for non-contact measurement of liquids and bulk solids; when used for open-channel flow measurement, these transmitters do not interrupt processes, allowing for further energy savings and ensuring successful brewing automation. Radar level gauges can also be used to optimize process control, storage, and inventory, and easily meet the strictest, most current sanitary standards. These instruments are engineered for optimal functionality in brewing environments and are not affected by water hammer, gas bubbles, dust, agitators, or vapor buildup on liquid surfaces.
Temperature Instrumentation
Temperature automation instruments, such as such as the iTEMP® TMT 162 field transmitter, offer numerous functions, including system breakdown information, corrosion detection, and drift alarms to avoid process shutdowns, as well as sensor back-up and quick maintenance intervention.
Supporting many applications, compact temperature transmitters allow for a freely programmable measurement range, enabling breweries to fine-tune the device to their exact needs easily. Such instruments can, therefore, be optimized for food and beverage automation as well as the exact energy-saving needs of a specific facility.
Learn More
Food and beverage businesses making use of automation technology require significantly less energy usage, allowing them to operate more efficiently while ensuring top-quality end products and high repeatability.
For more information on automation instruments in the brewing industry, or to speak with an expert about how flow, level, and temperature sensing technologies can benefit your beer brewing automation processes, download Endress+Hauser's free eBook, "Automation in the Brewing Industry."
Related