Augmented Reality: The Next Big Thing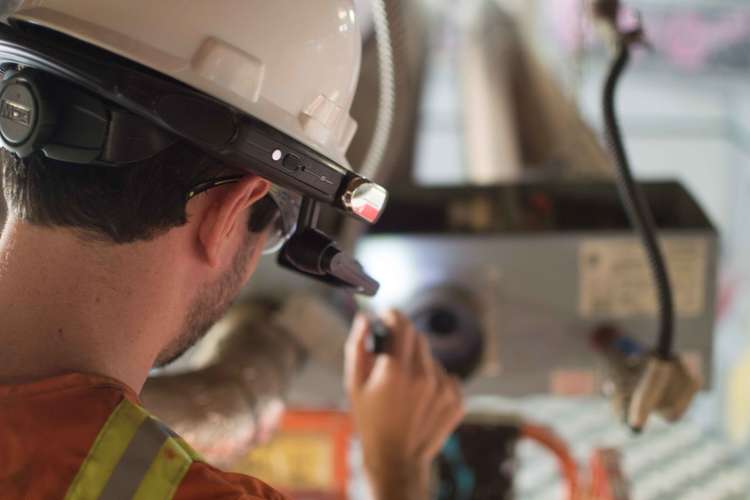 From robotics to the Internet of Things (IoT) to 3D printing, technology is constantly transforming the way the manufacturing sphere operates. Hands-free augmented reality (AR) wearables, in particular, are one of the most exciting high-tech innovations to find their niche in the industry.
Although their use in the industrial world is relatively recent, hands-free AR wearables are poised to become the norm. Recently, for example, Colgate-Palmolive teamed up with RealWear, a company that manufactures ruggedized augmented reality devices. Instead of being manipulated using a tablet or mobile device, these gadgets are clipped onto safety helmets and controlled using voice commands, keeping workers' hands free.
This partnership signifies a major shift, as manufacturers are beginning to capitalize on this technology and incorporate it into their practices as a standard component.
A New Partnership
Colgate-Palmolive originally piloted the RealWear devices at eight of their manufacturing locations. After a successful test run, the team launched the wearable tablet computer as a standardized piece of equipment for hundreds of their mechanics and engineers throughout 20 of their largest manufacturing facilities across the globe.
The technology consists of sophisticated, wearable computer devices with which users can interact in a variety of ways. Through the utilization of visual and auditory sensors, the AR gear is able to deliver an enhanced experience of a user's surroundings in real time without being cumbersome, making this technology useful in a wide range of industrial applications — and the list of possible uses is growing fast.
Over email, RealWear shared with us their thoughts on augmented reality, industry, and the future as a whole.
"At the highest level, RealWear is a hands-free knowledge transfer platform company," a spokesperson for RealWear said, outlining the various ways in which their AR gear can improve the current manufacturing paradigm:
"Faster training via knowledge transfer — Learning how to use equipment correctly and quickly. Millennials are the YouTube generation. They learn everything by watching how-to videos. They expect information instantly and are used to voice interfaces such as Alexa and Siri. Wearables are second nature to them. They resist learning with fat binders or technical manuals."
"Safety inspections — Preventative and predictive maintenance of equipment minimizes troubleshooting. Using connected equipment more safely or scanning and enabling digital workflow and IoT visualization."
"Customer service — Allowing customer to speak virtually to service reps, such as automotive showrooms using remote mentor solutions."
"By enhancing the efficiency of every worker and focusing on safety, the opportunities are limitless. Suddenly you can see real-time data visualization to create predictive maintenance, talk in real-time with experts from around the world, and control a full Android tablet without using your hands."
Real-World Solutions
The tech behind RealWear's flagship devices is only part of the story; RealWear's success can largely be attributed to the way the company identified a need in the industry and were able to provide a viable solution. "We noticed that a lot of augmented reality was being oversold to industry, inadvertently creating an industry of disillusionment, or at the very least, confusion of what's real and what's not."
Guided by a sense of pragmatism, they "formed a real company with real products to solve today's real problems." RealWear wanted to "make sure that no worker was left behind during the age of rapid digital transformation."
An Augmented Destiny
When asked about future expectations concerning the use of hands-free AR in manufacturing, RealWear said, "The number of connected wearable devices across the globe continues to rise — 99% of employees will be using a tablet at work in less than two years." Since the vast majority of the world's workers aren't working from a desk, keeping their eyes glued to a mobile device can be distracting and ultimately dangerous.
"It's really important for people to keep their hands free on the job to work to handle materials, lockout/tag-out, avoid fatigue or complacency, provide consistent maintenance, and [complete] training."
And with the risk of work-related fatalities and injuries ever-looming, RealWear sees hands-free augmented reality as an indispensable tool to ensure employee safety and alertness. In time, the versatility and practicality of this technology will likely mean complete integration into the manufacturing industry, changing the way the entire industry operates.
Image Credit: RealWear /
https://www.realwear.com/rw/category/newsroom/
Related