Army Seeking, Receiving Vehicle Upgrades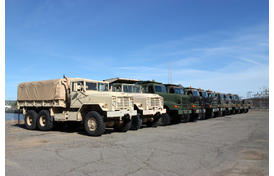 As the Army transitions to tactics that rely less on numbers and more on strategic, almost surgical, striking capabilities, vehicles for personnel continue to evolve. These strategic evolutions, combined with legacy products beginning to show their age, has led the Army to seek and award a number of ground vehicle contracts to U.S. manufacturers.
Some recent examples include:
Slidell, Louisiana-based Textron Systems Marine and Land Systems was awarded $332 million for 255 Mobile Strike Force Vehicles, with an estimated completion date of October 2024. The company offers three variants of the MSFV with weapons systems that can include an MK19 Grenade Launcher, and .50 caliber machine-gun turret. The first generation of MSFVs were used in Afghanistan in 2011.
The Defense Logistics Agency awarded a three-year, $17.6 million contract to Henderson, Kentucky-based Clarke Power Services for five-ton, medium tactical vehicle transmissions. These types of trucks were relied upon heavily in providing aid after the rash of hurricanes that devastated Texas and Florida last month. The robust nature of these vehicles had made them ideal for transporting troops and supplies in rugged climates around the world.
The Science Applications International Corporation (SAIC), which is headquartered in Reston, Virginia, announced that it plans to develop a fleet of combat vehicle prototypes for the U.S. Army. These seven vehicles are in support of the Mobile Protected Firepower, or MPF, program. They will leverage a next-generation armored vehicle chassis and turret from Belgium's CMI Defense and a mobile, digital network from Singapore's ST Kinetics. SAIC will work as an integrator in making sure the systems are compatible. The overall goal of these vehicles will be in providing optimal firepower and communications capabilities in a smaller, nimbler vehicle.
Related