Additive Manufacturing / 3D Manufacturing
Airbus Debuts First 3D-Printed Part That Passengers Will See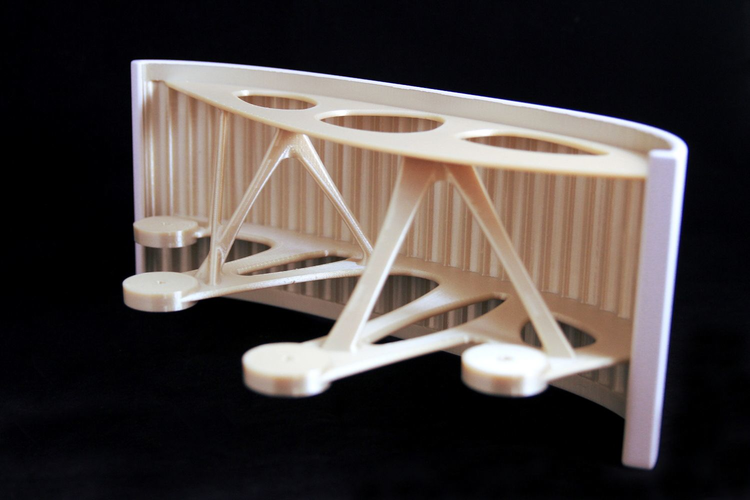 The aerospace industry was one of the first to embrace 3D printing. The technology is attractive in its ability to manufacture short run parts as well as geometries that are otherwise difficult to produce.
Airbus was an early adopter of the technology. In 2015, the company had more than 1,000 3D-printed parts on its A350 XWB aircraft, but they were deployed behind panels, hidden from passengers.
This week, the company debuted a new 3D-printed spacer panel, the first 3D-printed part that will be visible to passengers flying on Finnair's A320 aircraft. When airlines update cabin layouts, gaps are often created between the old and new components. These spacer panels are used to bridge those gaps.
The bio-inspired panels are 15 percent lighter, because the technology enabled them to have sophisticated support structures, like the lattices inside the panels. Typically, when these parts are made with injection molding, the process is more time-consuming and costly, particularly given the small quantities required for aircraft retrofit jobs.
According to Airbus, the company has shied away from using 3D-printed parts in areas that could be seen by passengers because they couldn't meet the company's aesthetic criteria. After all, a plane is a delicate environment where component quality and appearance can either reassure a passenger or make him or her second guess the safety of the aircraft, as well as the quality standards of the carrier.
Airbus partnered with Materialise, a Belgium-based company with one of the largest 3D-printing operations in the world. Materialise helped produce parts that finally passed the Airbus's stringent quality standards. The spacers were printed and painted in flame-retardant materials.
The collaboration started two years ago with the manufacture of the aforementioned 3D-printed plastic parts for Airbus's A350 XWB.
Parts produced with additive manufacturing will continue to find new applications in the aerospace industry, particularly as more mission-critical components receive approval from aviation authorities around the world.
Related