Advances in Laser Alignment Enhance Component Rebuild Accuracy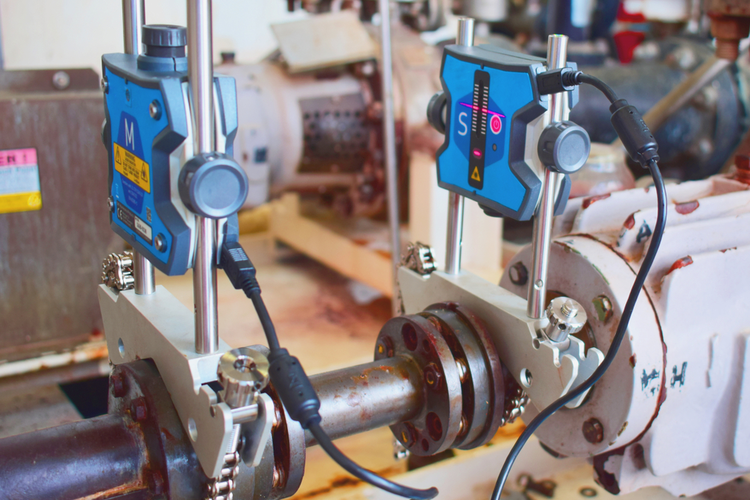 Component misalignment is a serious problem in the manufacturing world. For instance, misaligned or unbalanced shafts generate forces that produce stress on both rotating and stationary components; this can lead to forced downtime, exorbitant maintenance costs, and irrevocable damage to your production equipment.
Manufacturers should align the shafts, sheaves, pulleys, gearboxes, and other components of their production equipment on a regular basis. These frequent maintenance procedures can prevent costly problems from affecting your production capabilities. An effective preventative maintenance program should include component alignment; many manufacturers utilize laser alignment systems to ensure correct alignment.
How Laser Alignment Assures Accurate Component Rebuilds
Laser alignment, which involves the use of laser transmitters and receivers to detect even the slightest levels of component misalignment, is much more accurate than traditional dial indicator alignment.
There are certain signs that may indicate you need to undertake a laser alignment regimen within your facility, including:
Premature failure of shafts, bearings, seals, and couplings
Excessively high casing temperatures
Loose, cracked, or broken coupling or foundation bolts
Significant oil leakage around bearings and seals
If you pay careful attention to these indicators, you can more effectively diagnose which components are misaligned. In doing so, you can perform targeted alignment and repairs as needed, which will save you the trouble and costs of a complete system rebuild.
Advances in Laser Alignment Technology
In recent years, laser alignment technology has improved significantly, which translates to increased benefits for manufacturers. Laser alignment procedures use the internet to check systems, and they can integrate with smartphone and tablet technology. The two main laser alignment systems in use by manufacturers today are the Pruftechnik Optalign Touch System and the Easy-Laser XT550.
Pruftechnik Optalign Touch System
The Pruftechnik Optalign Touch System consists of a handheld device with multiple advanced features. The device contains laser heads including two large position-sensitive detectors (PSDs) and a continuous measurement mode that makes mechanical corrections both horizontally and vertically in real time. This device automatically reads the equipment's alignment condition, detects indications of "soft foot," and offers flip machine functionality, among other features.
This system connects to WiFi and supports Bluetooth and cloud-based file transfer. The Pruftechnik system offers extremely accurate alignment readings and can precisely detect initial alignment conditions, which takes away the necessity for prealignment.
This Pruftechnik device also resists water, dust, and electrical shock, and it's extremely resistant to external contaminants and incidental damage resulting from oil, dirt, and scratches.
Easy-Laser XT550
The Easy-Laser XT550 system is another option for laser alignment. This is the world's first Ex/ATEX-approved system that uses third-party tablets and smartphones in its laser shaft alignment processes.
Specifically designed for use in hazardous areas, it has rugged measuring units that resist dust and water, and the system can operate for up to 20 hours at a time.
The Easy-Laser boasts an advanced system that helps achieve precise horizontal and vertical alignment measurements, and it also uses flange-mounted rotating equipment for various sectors of industry. Many industrial regulators, including those for the oil, gas, and chemical processing sectors, require the use of Ex technology such as the Easy-Laser system.
Integrated software allows you to check for the machine foundation's level of flatness and detect any noticeable irregularities. After successfully completing alignment, the Easy-Laser allows you to generate an extensive measurement report, including photos, which can subsequently be shared with plant supervisors and other personnel as needed.
Achieve Better Alignment Through Laser Measuring
Advances in laser alignment technology have allowed manufacturers to more easily resolve misalignment and balance issues, reduce unnecessary costs from forced downtime and unscheduled maintenance, and increase production efficiency across the board. Investing in the latest laser alignment equipment is essential to implementing efficient preventative maintenance practices.
Image Credit: Mr. PK / Shutterstock.com
Related