A New Brew for the American Economy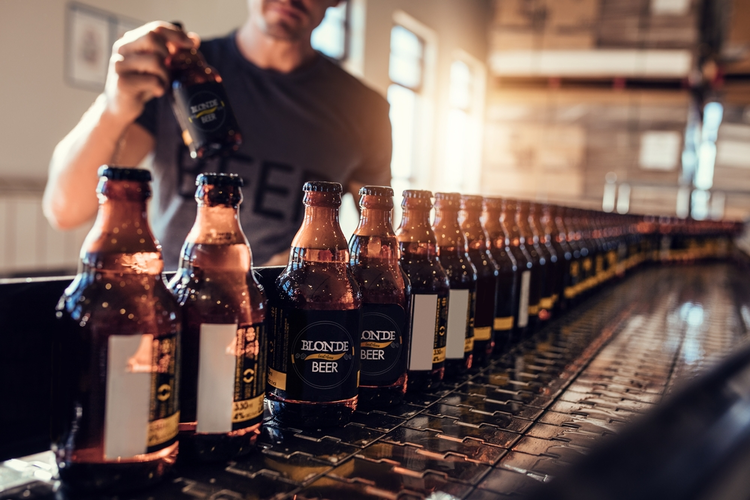 Over the past decade, American industry and the towns built around it have seen great upheaval. With the rise of automation, a declining labor force, and globalization, companies are finding themselves unable to compete in these trying times.
Factories are shutting down. Farmers are losing profits. And the towns built on the backbone of these industries suffer as a result, with declining property values and rampant unemployment. This is happening all across America. So when industry leaves a town, what can step in to replace it? One solution has been found in an unlikely source: breweries.
The Unlikely Ascent of Beer Production
Though it's delivered in kegs and enjoyed in pint glasses, beer requires a lot more resources for actual production. For someone looking to go beyond home brewing and enter the commercial brewing sphere, they'll need a significant amount of room. With fermentation tanks, brewing kettles, and bottling and labeling systems, the entire process requires sizable space for operation. Many different ingredients are also needed for the brew, from hops to barley to yeast.
Craft beer, also, is a booming business, with a recent article in The Atlantic stating that between "2008 and 2016, the number of brewery establishments expanded by a factor of six, and the number of brewery workers grew by 120 percent." The average beer price has increased by 50%.
This is an economic anomaly, especially in these times. Derek Thompson, senior editor at The Atlantic, noted that "technology and globalization are supposed to make modern industries more efficient, but today's breweries require more people to produce fewer barrels of beer." The breweries are also flourishing in spite of the monopolies stacked against them. Thompson continued, "Consolidation is supposed to crush innovation and destroy entrepreneurs, but breweries are multiplying, even as sales shrink for each of the four most popular beers: Bud Light, Coors Light, Miller Lite, and Budweiser."
This is in stark contrast to the recurring modern story of the small business being rendered insolvent by corporate giants coming to town. And, interestingly enough, this is all happening in the midst of a national decline in alcohol consumption.
Out With the Old, In With the Brew
Carter & Stevens Farm, a third-generation dairy farm in central Massachusetts, has witnessed both the highs and lows of this shifting time for industry. Across the United States, high supply and low demand for product have caused a dramatic decrease in profitability. As profiled in The New York Times, the farm was expecting to make an unceremonious exit from the American economy, like so many others before it. However, they pivoted to craft beer and have seen a great revival. Opened in 2016, the Stone Cow Brewery "totally changed [the] farm forever," said Sean Dubois, the brewery manager. Other dairy farms have followed suit, with their brews fetching much higher profits than milk.
Other breweries have come into being after brewers acquire abandoned industrial spaces and completely renovate them. Such is the case of Two Roads Brewing Co. in Stratford, Conn. Founded in 2013, Two Roads is the former home of the U.S. Baird Corporation. The founders of Two Roads were given a $500,000 grant from the Department of Economic and Community Development to renovate the 100,000-square-foot 1911 building. The grant was awarded due to the restorative potential of such a brewery. "It is clear that this investment will both clean up our community and create local jobs," said State Senator Kevin Kelly.
When the partners first arrived, the interior was filled with metal clutter and asbestos hanging from the walls. Now completely refurbished, Two Roads is the main attraction in Stratford, Conn., producing 42,000 barrels in 2016 alone while expanding distribution. The brewery also pays tribute to its industrial roots through its merchandising, as well as the tables, bar, and stools repurposed from the original factory wood.
The brewery also hosts local events year-round, involving nearby businesses and naming beers after historical figures associated with the area. The brewery has been such a success that they recently announced the development of a second, experimental brewing facility on the adjacent land, which will include a "significant investment" to rehabilitate about 1.5 acres of wetlands and create new jobs.
Paying it Forward
Aside from achieving individual successes, breweries are also playing a huge role in helping the depressed communities around them. Hand of Fate Brewing Co. in Petersburg, Ill., is operated out of an old Dollar General store in the town square. A success in and of itself, the location of the brewery has also been a boon to local businesses.
"Once Mike got the brewery going," said Neil Gurnsey, assistant vice president – loan officer at Petefish, Skiles & Co. Bank in Petersburg, Ill., "life was just injected into the square. If I go inside the bar and see that I know just 10 people out of 100, that's great."
New businesses have opened up in the square, encouraged by the tourism and activity brought in by the brewery. Falling in line with the trend of special events organized or sponsored by breweries, Hand of Fate also recently held a street festival, bringing in both the local community and tourists.
These events have the dual benefit of helping the brewery itself while also exposing people to local businesses in the community. The economic impact of such events has been significant. For example, the annual Oregon Brewers Festival "generated $32.6 million for the local Portland economy," according to professor Jeff Dense of Eastern Oregon University in La Grande, Ore.
Even without these events, craft beer tourism is a thriving industry. It's estimated that 1.6% of craft beer drinkers make more than ten trips annually to brewers more than two hours from their home. In a study conducted in Kent County, Mich., "businesses generated $7.05 million in direct spending from 42,426 visitors, who racked up more than 14,000 hotel nights." New York State, meanwhile, found that in 2013, breweries attracted 3.66 million visitors and raked in $450 million in business attributed directly to beer sales, supporting more than 3,000 jobs.
Saving failing businesses, thwarting unemployment, and allowing for valuable community outreach, breweries have become an unlikely hero for the struggling North American industry. Their rise also thwarts one of the most existentially troubling aspects of a depressed economy — the idea that what was once lost cannot be found again. But it seems that some untapped ingenuity was all that was needed.
Resources:
Image Credit: Jacob Lund/Shutterstock.com
Related