5 Keys to Capitalizing on Industry 4.0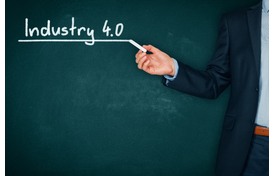 At their recently held Global Users Exchange, leading robotics and automation provider Emerson offered their perspective on what they describe as the "five essential competencies critical to realize the value of digital transformation."
According to the company, incremental gains in efficiency should no longer be enough, and to ensure global competitiveness, manufacturers need to create a workforce that understands and embraces the impact of digital technologies. Emerson analyzed organizational behaviors of the top 25 percent of their peers and identified the following attributes as key to realizing the potential of Industry 4.0:
Automated Workflow. By eliminating repetitive tasks and streamlining standard operations, people can focus their efforts exclusively on tasks that still require human involvement.
Decision Support. Using data to guide actions will help simplify and speed-up decision-making.
Workforce Upskilling: Providing skills training and an understanding of higher-level systems and strategies will create a workforce that feels empowered to make better decisions that are more closely tied to company success.
Mobility: Universal access to data across all plants and work cells will lead to higher efficiency and workflow, regardless of physical location.
Change Management: Embracing new approaches and tools can help accelerate the implementation of best practices.
The company also conducted a study earlier this year in which manufacturing leaders from a variety of industries indicated that the opportunities associated with Industrial IoT would depend on more real-time data and better analytical tools. However, neither will carry any impact without having people who are trained to understand and correctly apply it.
The solution, according to Emerson, is for manufacturers to adopt more aggressive strategies in educating workers. These plans include easing the uptraining process and implementing the ability to adjust production approaches in the face of changes suggested by the data and a worker's analysis of that data.
Related