2018 Gift Guide: The Best STEM Toys for Kids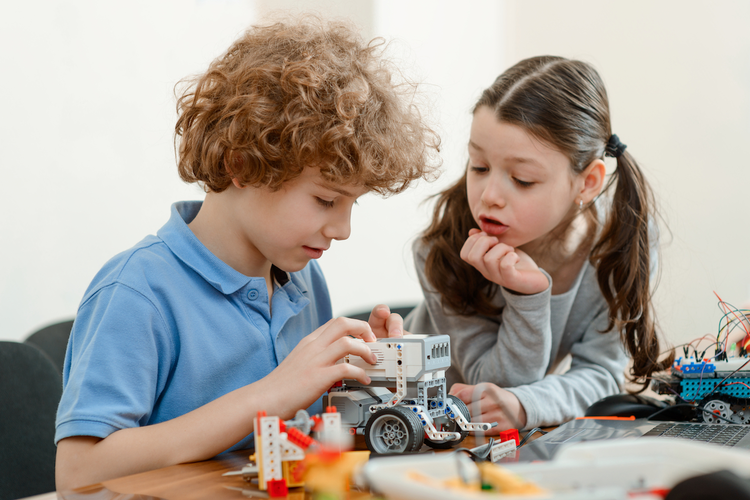 This holiday season, invest in the workforce of the future by giving the gift of STEM education — in the form of toys.
Aside from being a lot of fun, STEM-based toys have the potential to shift the younger generations' perception of manufacturing, and, one day, may even inspire them to pursue a high-reward career in the industry, helping to remedy the U.S. skill gap.
Below are our top 11 STEM toy picks for 2018. Each of these toys is aimed at introducing children to STEM subjects in a way that is fun, engaging, and educational.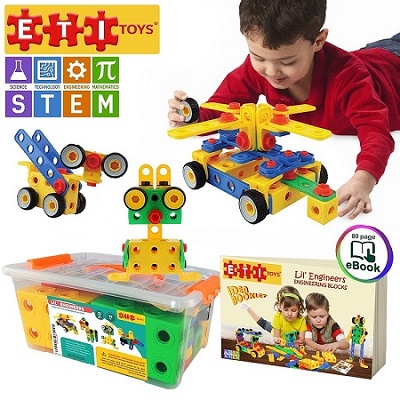 1. For the littlest engineers, check out the ETI Toys STEM Learning Building Block Set:
Designed for younger kids between the ages of 3 and 6, this set features 101 building block pieces, allowing kids to get hands-on experience with engineering while also developing their motor skills, hand-eye coordination, and problem-solving skills. The set comes with two wrenches so that children can play with each other and learn about teamwork.
Price: $35.99
2. Another option for little hands is the Thames & Kosmos Kids First series:
This series of toys offers a variety of STEM kits, including Aircraft Engineer, Automobile Engineer, Boat Engineer, Robot Engineer, and Science Laboratory. Each kit features chunky, colorful blocks that are both attractive and easy to play with for preschool engineers. These kits also come with storybook manuals that provide fun, educational journeys.
Price: $30.91-$44.90
3. For aspiring electronic engineers, try the SmartLab Toys Smart Circuits Games & Gadgets Electronics Lab:
This electronics kit provides children age 8 and up with a great introduction to building electronic gadgets. The kit features components such as a microprocessor module, push-buttons, jumper wires, baseboards, and a speaker module, as well as a 48-page booklet that includes detailed instructions for 50 circuit builds. Kids can build custom creations that they can then play with.
Price: $26.95
4. For budding mechanical engineers, look into the Engino Discovering STEM: Levers, Linkages & Structures Building Kit:
This kit, recommended for children age 8 and up, allows kids to build 16 different mechanical structures, including a seesaw, a wheelbarrow, and a pantograph. It also includes 14 pages' worth of facts to help introduce kids to the theories behind mechanical physics and engineering, as well as 7 pages' worth of experimental activities designed to deepen children's understanding of the concepts.
Price: $30.97
5. For the mini mad scientist, check out the Playz Kaboom! Explosive Combustion Science Lab Kit:
Who says chemistry has to be boring? Perfect for precocious kids age 8 and older, this kit introduces children to chemistry through exciting hands-on experiments. From rockets to lava lamps to colorful fizzy bombs, kids get to learn about chemical reactions in a fun, exciting way. The kit comes with everything a child needs to play, as well as a colorful booklet containing interesting STEM factoids.
Price: $39.95
6. For environmentally conscious youths, try the 4M Solar Rover Kit:
This kit teaches kids age 8 and up about eco-friendly engineering. In addition to showing kids how the sun can be used for energy, the solar rover, which is assembled using a recycled soda can, also teaches them that recycled materials can be used to engineer new things.
Price: $14.58
7. For a different approach to alternative energy, check out the OWI Hydraulic Arm Edge Kit:
This robotic arm requires no batteries or electricity, teaching kids age 10 and older about the power of hydromechanical technology. With easy-to-follow instructions, kids can quickly build a machine while also learning the basic principles behind hydraulic systems. Once assembled, the arm allows for a wide range of motion, and can be used to pick up and hold things.
Price: $32.99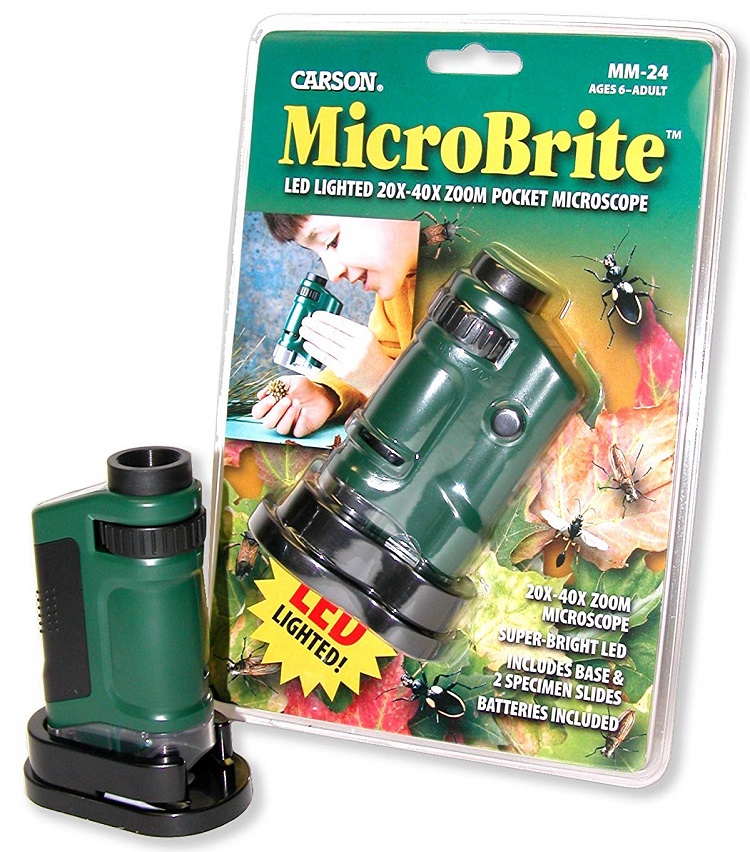 8. For future scientists, try the Carson MicroBrite Pocket Microscope:
With 20-40x magnification power, this little microscope gives little scientists age 6 and up the opportunity to see the world around them in a completely new way. The microscope comes equipped with bright LED lights, a base, and two specimen slides. The compact and durable design allows kids to explore and examine nature on the go.
Price: $9.99
9. To inspire little inventors, check out the Playz Ridiculous Inventions Science Kit:
This kit, which focuses on electricity, energy, and magnetics, comes with everything kids age 8 and older need to create DIY telegraphic messages, robots, magnetic force fields, compasses, kaleidoscopes, and more. The included 72-page guide contains very detailed instructions along with vivid illustrations and fun facts.
Price: $39.99
10. For Harry Potter fanatics, check out the Kano Harry Potter Coding Kit:
Some kids would rather go to Hogwarts than learn to code, but with this programmable wand and coding kit, doing both is as easy as saying "Wingardium Leviosa." This kit provides kids age 6 and older with wand parts (including a PCB with a codable LED button), a detailed book of 70+ coding "spells," stickers, and a poster. Designed to work with a free app, the wand harnesses the magic of Harry Potter to teach kids how to code by levitating feathers, growing pumpkins, and more.
Price: $99.99
11. For a high-tech splurge, check out the Toybox 3D Printer:
Described as "the last toy you ever need to buy," this 3D printer gives kids the ability to print thousands of new toys on a whim. Using an intuitive interface that connects seamlessly with the company's toy catalog via the website or a mobile app, kids can print castles, trains, figurines, musical instruments, and much more. The company adds new toy designs to their catalog every week, and kids can even upload their own designs to be printed.
Price: $299-$349
Image Credit: Courtesy of companies listed above and Yuriy Golub / Shutterstock.com
Related