How Modular Construction Aids in Disaster Recovery Rebuilding Efforts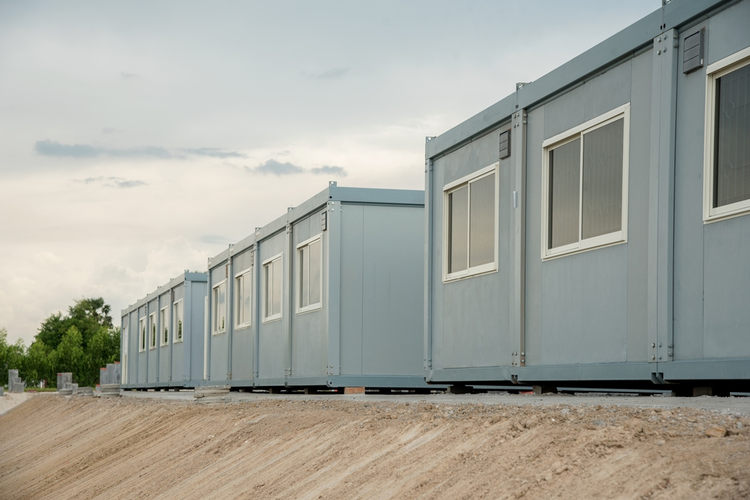 Ever since Hurricane Katrina tore through the Gulf of Mexico and into the heart of Louisiana, the commercial modular building industry has played a bigger, more integral role in helping communities rebuild after natural and man-made disasters.
The Federal Emergency Management Agency (FEMA) turns to the commercial modular industry in order to provide both temporary and permanent modular buildings for disaster recovery rebuilding efforts within the continental U.S. and its territories.
This is largely due to the fact that commercial modular companies have extensive experience working with state, local, and tribal governments to aid in securing funding, as well as directing and coordinating the entire rebuilding process. This helps in mitigating losses and bringing back a sense of normalcy after floods, fire, hurricanes, tornados, earthquakes, and other disasters wreak havoc on communities.
The practice began in the late 1960s when Hurricane Camille ravaged Louisiana and Mississippi. FEMA, with the assistance of the mobile home and modular industries, stepped in to provide thousands of mobile homes and other modular buildings throughout the region.
When Rebuilding After a Disaster, Time Is of the Essence
When dealing with natural disasters and their aftermath, temporary recovery and aid facilities typically must be fully operational within a short timeframe, particularly for health care providers and educators. The modular industry's vast dealer and manufacturing network allows for quick delivery and installation of both new and used buildings that can meet a wide range of small and large facility applications in a fraction of the time required by site construction.
In many cases, modular buildings are available directly from the extensive inventory programs of manufacturer-direct and modular leasing companies. Modular options include portable classrooms to meet emergency education needs, as well as configurable complexes that can function as small- or large-scale temporary offices.
When a tornado tore through Joplin, Missouri, in the spring of 2011, destroying the local Mercy Hospital, a temporary prefabricated hospital was erected to get the community through the winter while a modular hospital was designed, built, and installed. This allowed the community to receive medical services while a new permanent facility was planned and eventually opened in 2015.
Offsite Fabrication in Modular Construction Projects
Modular construction allows the primary manufacturing activity — the actual fabrication of the structure — to take place away from the affected disaster area, in an environment where materials and labor are readily available. At the offsite facility, complete buildings are fabricated in sections while the site improvements required to accept the building are taking place.
The modules are then trucked to the job site and the buildings are assembled, weathered in, and connected to utilities or generators. Short of putting up tent cities, this is the fastest means for providing much-needed resources and facilities to a community. In fact, this approach can cut the building timeline down to 40% to 60% of what is typically required from conventional construction methods.
Modular construction techniques proved critical in April 2013, when a fertilizer plant explosion in West, Texas, destroyed West Independent School District's middle and high school campuses. A 69,776-square-foot temporary campus comprised of 28 separate modular buildings was designed, manufactured, and installed on a 6-acre site in just 60 days.
Disaster Rebuilding With Design-to-Build Contract Methods
Many companies in the modular sector are vertically integrated and capable of designing, manufacturing, and performing site construction for small- to large-scale projects, providing a single-source solution to streamline development and construction of both relocatable and permanent facilities. When permitted for public projects, the design-build contract approach can:
Substantially reduce both design and construction costs
Minimize costly change orders
Allow for a faster project completion timeline
Ensure superior quality with enhanced safety
Reduce waste
The design-build approach has been employed in the redevelopment efforts of many disaster recovery projects, and is the project-delivery method of choice when speed is of the essence. When Hurricane Marilyn devastated the U.S. Virgin Islands in 1995, The USVI government and FEMA turned to modular construction to rebuild several campuses requiring over 1,800 modular sections, which were configured into classrooms, laboratories, cafeterias, libraries, and administrative offices.
Faster, Greener, Smarter
Today's advanced modular building construction technology provides a range of reliable, highly efficient solutions for disaster recovery efforts. From innovative, relocatable buildings to extensive, multistory permanent structures indistinguishable from long-standing site-built approaches, modular methods offer viable options for virtually any kind of emergency situation.
To see how modular construction can work for your future building needs, visit the Modular Building Institute to find a member company in your area.
Image credit: Bannafarsai_Stock / Shutterstock.com
Related