"Greening" the Green Monster: Fenway Park Farms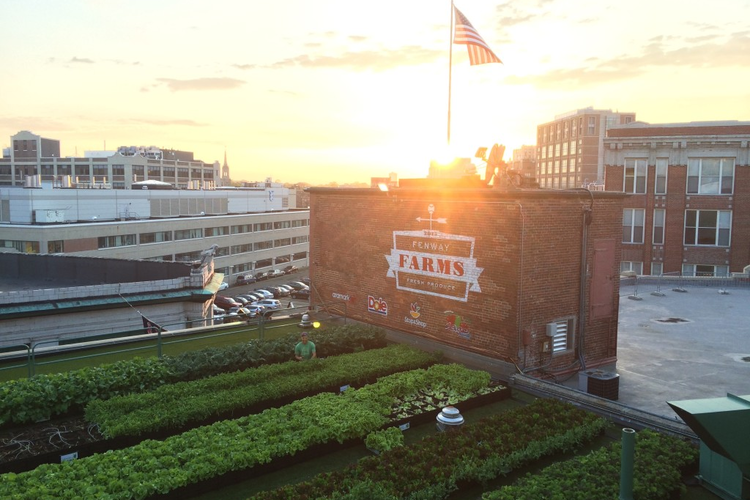 The Boston Red Sox, Recover Green Roofs, and Green City Growers took "going green" to a whole new level when they transformed Fenway Park (the oldest ballpark in Major League Baseball history) into prime real estate for urban farming.
Fenway Farms, the result of their successful collaboration, serves as a benchmark for large-scale urban farming operations. The rooftop garden project started as an initiative sponsored by the Boston Red Sox, who felt compelled to give back to fans and members of the local community in the greenest way imaginable. By turning the rooftop of the Green Monster, a beloved section of the ballpark's seating area, into an urban farm, the team was able to repurpose an underutilized space into a creative way to give back to their community.
Fenway Farms is situated atop a 5,000 square foot roof right above the Red Sox front offices. Completed within a month, the farm installation process only cost $200,000, proving that "going green" doesn't always need to be a costly project.
The farm grows close to 6,000 lbs. of organic produce and herbs every year using a milk crate container growing system. While most of the produce collected from the gardens supplies Fenway Park's in-park restaurants, a significant portion of the fresh produce is donated to the local community through the non-profit food rescue organization Lovin' Spoonfuls. Fenway Farms further promotes environmental stability by mitigating the effects of air pollution, conserving energy, lessening the impact of the "Urban Heat Island Effect," and managing stormwater runoff.
Fenway Farms is a true team effort. Recover Green Roofs designed, built, and installed the rooftop farming system, while Green City Growers handles all aspects of farm management. The collaborative work of both companies has won them prestigious environmental awards. In 2017, Recover Green Roofs received the Intensive Institutional Award of Excellence and Green City Growers received the Walden Woods Project's Environmental Challenge Award in recognition of their work on Fenway Farms.
Image Credit: Green City Growers/https://greencitygrowers.com/fenway-farms/fenway-farms-faq/
Related