"Gandalf of Industrial Biotechnology" Joel Stone Named Champion for Industry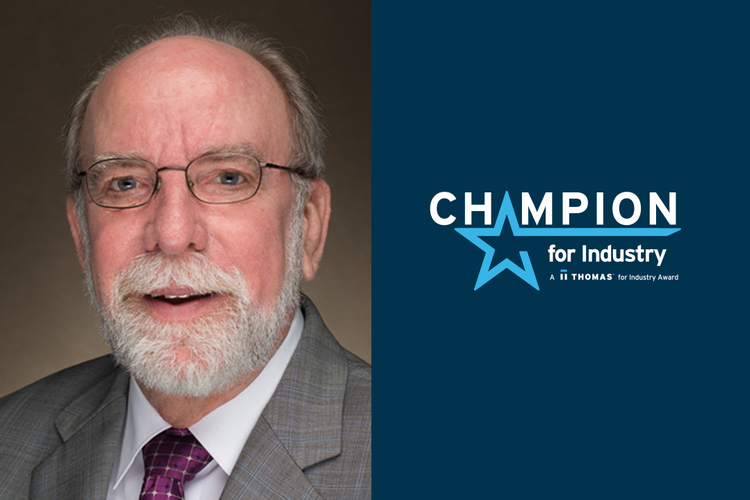 Throughout 2019, Thomas will be honoring the achievements of distinguished company leaders and managers in the manufacturing industry. Once a month, we will present these respected pillars of industry with the Thomas Champion for Industry Award. Nominated by their peers, Thomas Champions are leaders who embrace innovation, inspire their colleagues, dedicate themselves to finding trailblazing solutions, and drive business forward.
Recognized by his peers as a singular force of expertise, Joel Stone is described by colleagues as being "the Gandalf of Industrial Biotechnology."
As one of the pioneers of his rapidly advancing field, Stone "studied biochemical engineering when no one knew what it was," he says.
Getting into the industry early has proven advantageous for Stone; he has distinguished himself by serving in multiple leadership roles across many biotech sub-facets, such as renewable chemicals, food ingredients, ethanol, animal health, and enzymes, proving not only a talent for biotechnology, but also for business.
Starting a Start-up
A little over a year ago, Stone was approached to take on his newest endeavor — helping to create a start-up.
After identifying fermentation capacity as one of the major needs of the industrial biotechnology field, Stone and his colleagues created Fermentum, a company that specializes in providing large-scale fermentation services.
"It's capital intensive to be able to do large, industrial-scale fermentation, making everything from ethanol for fuel plants [and] plastics to single cell proteins and food ingredients," said Stone.
An expert in fermentation, he recognizes the value of Fermentum's business model as a niche service in the industrial biotechnology market.
"Rather than every individual company going out and building its own facility, and putting their business at risk," he says, "we will be able to make chemicals for any number of customers quickly — and successfully."
In his role as CTO, Stone currently oversees the construction of a 600,000 liter plant in Rochester, NY, which will later become the main hub for all of Fermentum's fermentation services.
The Future of Industry
Reflecting on how biotechnology has evolved over the course of his career and what the future of the industry holds, Stone is enthusiastic.
"It's exciting to see where we are now," he says. "We're entering a period of time when industrial microbiology is about to make major changes in how all of us live, eat, and take care of the environment."
Stone believes that synthetic biology, which allows for the creation of new materials quickly with the help of gene editing, is making a difference in the industry by minimizing the need for harmful substances such as hydrocarbons.
"[With] the amount of investment going into synthetic biology, the market is exploding with opportunity," he says. "Synthetic biology is crossing all market sectors such as food and fuel. Harnessing this technology is going to be the future of industry."
Spreading the Joy of Biotechnology
For those considering a career in biotechnology, Joel offers a key piece of advice.
"Always enjoy what you do," he says. "If it's not fun, it's not right for you."
To share his love for and knowledge of the industry, Stone often speaks at conferences, such as the Advanced Bioeconomy Leadership Conference (ABLC). He is excited to use his platform to inspire the future generation of scientists and engineers.
"Inspiring younger professionals and letting them know that there's someone with experience that's willing to help keeps me going," he explains.
In light of his exceptional contributions to the biotechnology industry, his great strength as a leader, passion for fermentation, and his commitment to sharing insights and wisdom with others, Thomas recognized Joel Stone as the first Champion for Industry.
Know an industry champion who deserves recognition? Submit your nomination for a Champion For Industry here.
Related