ZRP 6030 R Retroreflectometer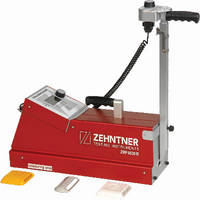 The Zehntner-retroreflectometer measures the retroreflection value R of road studs as seen by a vehicle driver driving with dimmed headlights. This renders an objective determination of retroreflection possible.

Application areas

o for national road authorities, road laboratories, manufacturers of road marking materials, contractors and expert witnesses

o control of road studs after fixing and during the warranty period

o decision on required renewal

Description

o Determination of the retroreflection value R, the ambient temperature as well as relative humidity combined in one compact instrument.

o For all types of road studs - depressible, bonded, self-adhesive, anchored, permanent or temporary - at any time of the day or night

o With intelligent memory, interfaces for PC and printer

o Measuring system with high long-term stability ensures constant measuring accuracy and thus reliable measuring results; automatic self-diagnosis will show all deviations caused by damage or soiling.

Features

o with a press of the button several values

o menu-guided in several languages, easy to operate

o PC and printer download, printout of a detailed test report on an A4- or letter-sized paper with almost any printer

o powerful battery; e.g. for 400 measurements per day, the battery has to be recharged only once a month

o LED with high life time (over 500,000 measurements), adapted to V( ë)

o automatic ambient light supervision and correction

o automatic calibration using the supplied standard

o free software update and program for PC (RetroTools software). RetroTools is available for Windows 98 SP1, NT 4.0 SP5, 2000 SP2, XP and Vista versions. In addition, the Internet Explorer 4.01 or higher is required.

o data transfer to Microsoft Excel for statistics

o for better user convenience in the field, wheels, remote control including adjustable handle are optionally available; easy to mount and to remove, no tools required.

More from Electrical Equipment & Systems