Young Entrepreneurs Receive FDA Clearance for Medical Device Poised to Disrupt Newborn Care Market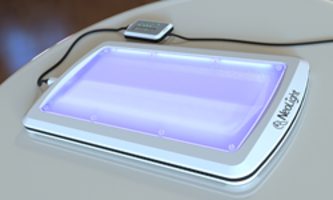 Through its empathy-driven innovation model, NeoLight develops technologies that treat infants with life threatening medical conditions.
PHOENIX - OCTOBER 30, 2017 - NeoLight announced today that it has received 510(k) clearance from the U.S. Food and Drug Administration (FDA) to market the Skylife™ portable phototherapy system. The Skylife device delivers a narrow band of high-intensity blue light via blue light emitting diodes (LEDs) to provide treatment for neonatal unconjugated hyperbilirubinemia (jaundice).
"We are thrilled to have 510(k) clearance for the Skylife phototherapy system and see this as a key milestone in our mission to reinvent the newborn care space through empathy-driven innovation," said Vivek Kopparthi, NeoLight Co-Founder and CEO. "Our approach always starts with one question – what is best for the baby? This question drives everything we do."
Infant jaundice occurs when a baby's blood contains an excess of bilirubin, a byproduct of red blood cells. Neonatal jaundice is a common condition, particularly in babies born before 38 weeks gestation (preterm babies). Jaundice in the newborn must be carefully monitored, as although complications are rare, a high bilirubin level associated with severe infant jaundice or inadequately treated jaundice may cause brain damage. Jaundice occurs in approximately 60% of the 4 million neonates born yearly in the United States
With headquarters in Phoenix, NeoLight is an Arizona State University spinout that engineers, designs and manufactures technologies that treat infants with life threatening medical conditions. The company's mission is to reinvent newborn health care through empathy-driven innovation. For more information, visit theneolight.com.
Related