YORK® Modulating Gas Furnace Receives Consumers Digest Best Buy Designation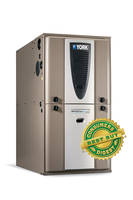 ENERGY STAR® furnace equips contractors with high-efficiency, easy-to-install unit
MILWAUKEE - (Nov. 21, 2016) - Consumers Digest magazine recently named the YORK® Affinity™ YP9C modulating gas furnace from Johnson Controls a 2016 Best Buy. The designation recognizes the unit's outstanding efficiency rating, fuel-conserving features and positive impact on homeowner comfort. It also considered ease of use, maintenance requirements and quality and reliability.
The YORK Affinity gas furnace boasts an efficiency rating of 98 percent Annual Fuel Utilization Efficiency (AFUE), providing more heat for less money. Because the furnace meets or exceeds U.S. Environmental Protection Agency energy efficiency standards of 90 percent AFUE, the gas furnace also qualifies as an ENERGY STAR® product.
The unit's modulating burner design continuously adjusts heating levels in 100-step increments to maintain the desired temperature setting within approximately half a degree of the thermostat set point. The unit is also equipped with an additional efficiency feature-an electronically commutated motor (ECM)-that offers nearly continuous, gradual fan speed operation for fewer stops and starts. Additionally, ClimaTrak™ variable-speed air-handling technology allows the local YORK dealer to set the motor in the Affinity furnace so it works best in a particular climate, whether the home is located in a dry, temperate or humid area.
"The YORK Affinity modulating gas furnace equips contractors with an easy-to-install-and-service unit that is also one of the industry's most efficient gas furnaces," said Liz Haggerty, vice president and general manager, Unitary Products Group, Johnson Controls. "In addition to the Best Buy and ENERGY STAR designations, the furnace has also earned the Good Housekeeping Seal, a symbol of quality and trust."
The gas furnace features a compact 33-inch cabinet profile to fit more comfortably in less space, including closets, attics and basements with low ceilings. Contractors will also appreciate an easy-to-service design and reinforced cabinets and gasketed doors that ensure the unit's quiet operation.
Rugged steel heat exchangers backed by an industry-leading limited warranty and a 100 percent shut-off main gas valve instill homeowner confidence. Controlling the furnace is easy, thanks to the Wi-Fi® and smartphone-compatible Affinity™ Residential Communicating Control, which allows the homeowner to remotely monitor and adjust settings for up to six zones/rooms to save energy and feel more comfortable.
To learn more about the YORK Affinity YP9C modulating gas furnace and a new line of YORK residential heating and air conditioning split systems-the result of more than 125,000 hours of customer research, product design and testing-visit www.YORK.com.
YORK® products from Johnson Controls include energy-efficient, residential central air conditioners, heat pumps, furnaces and accessories, and innovative light-commercial, packaged heating and cooling systems marketed through a national distribution network and delivered to home- and building-owners through qualified YORK heating and cooling contractors. For more information about YORK, visit www.YORK.com.
About Johnson Controls Johnson Controls is a global diversified technology and multi industrial leader serving a wide range of customers in more than 150 countries. Our 135,000 employees create intelligent buildings, efficient energy solutions, integrated infrastructure and next generation transportation systems that work seamlessly together to deliver on the promise of smart cities and communities. Our commitment to sustainability dates back to our roots in 1885, with the invention of the first electric room thermostat. We are committed to helping our customers win and creating greater value for all of our stakeholders through strategic focus on our buildings and energy growth platforms. For additional information, please visit http://www.johnsoncontrols.com.
About Johnson Controls' Building Technologies & Solutions
Johnson Controls' Building Technologies & Solutions has an unmatched portfolio of HVACR products and solutions to create more comfortable, safe and efficient buildings. Operating in more than 150 countries through a strong network of distribution channels, Building Technologies & Solutions' breadth of offerings help building owners, operators, engineers and consultants impact the full lifecycle of a building. Its market leadership is established through trusted brands such as YORK®, Sabroe® and Metasys® as well as its smart building integration capabilities and energy financing solutions. For more information, visit www.johnsoncontrols.com.
Related Links:
Johnson Controls: http://www.johnsoncontrols.com.
York®: http://www.york.com.
CONTACT:
Ryan Nolan
Public Relations Program Manager
Building Technologies & Solutions, Johnson Controls
Work + 1 414 524 6170
Mobile + 1 414 378 9641
Related