Yale MX Series Recognized as 2017 Product of the Year Finalist by Plant Engineering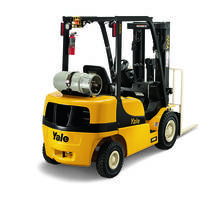 GREENVILLE (Nov. 14, 2017) – From growing fulfillment requirements to labor challenges, today's operations face a variety of external pressures and require versatile, reliable solutions to get the job done. Plant Engineering recognizes the Yale® GP040-060MX as such a solution, naming it a finalist for its annual Product of the Year awards in the materials handling systems category. From manufacturing to retail and distribution, the MX combines productivity, operator comfort, dependability, simple service and low total cost of operation into a best-fit package.
With the ability to design over a trillion configurations, the MX Series is a customizable solution with uncompromised performance capable of boosting overall efficiency and productivity. In head-to-head testing against its top competitor, the MX demonstrated significant advantages, moving up to 2.9% more loads, using up to 14.4% less fuel and providing up to 20.4% power on some of the toughest grades.
As corporate initiatives look to squeeze greater efficiency from increasingly lean supply chain operations, they require reliable, powerful, cost-effective materials handling equipment tailored to their application," says Chris Murtha, Brand Manager, Yale Materials Handling Corporation. "Plant Engineering clearly recognizes this and the value of the MX Series."
In its 30th year, the Plant Engineering 2017 Product of the Year reader-choice program celebrates new products in the manufacturing industries. Qualified CFE Media subscribers can vote for the Yale® MX Series here: https://gspplatform.cfemedia.com/pe/productProfile/59b199e1e4b07c141431bb38.
YaleMX is a finalist for @PlantEngMag Product of the Year award! More here bit.ly/2hoKVqT
About Yale Materials Handling Corporation
Yale Materials Handling Corporation markets a full line of materials handling lift truck products and services, including electric, gas, LP-gas and diesel powered lift trucks; narrow aisle, very narrow aisle and motorized hand trucks. Yale has a comprehensive service offering including Yale Vision wireless asset management, fleet management, Yale service, parts, financing and training. Yale® trucks are manufactured in an ISO 9001:2008 registered facility and range in capacity from 2,000 to 36,000 lbs.
Yale Materials Handling Corporation is a division of Hyster-Yale Group, a wholly owned subsidiary of Hyster-Yale Materials Handling, Inc. (NYSE:HY). Hyster-Yale Materials Handling, Inc. and its subsidiaries, headquartered in Cleveland, Ohio, employ approximately 6,700 people world-wide.
More from Food Processing & Preparation