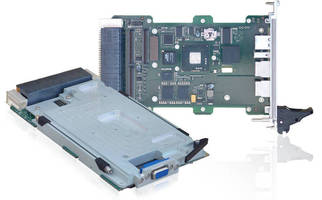 Press Release Summary: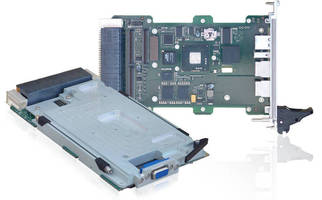 x
---
Original Press Release:

Kontron Launches Support for VPX Standard with Two New VPX CPU Boards



Scalable performance with high bandwidth over the backplane for ultra rugged defense and aerospace applications

Eching/Nuremberg, Germany, March 03, 2009 - At Embedded World (Hall 12, Booth 404) Kontron showcases its support for the new VITA 46 VPX standard with two new rugged 3U VPX CPU boards: The high performance Kontron VX3020 based on the Intel® Core(TM) 2 Duo processor and the price-optimized Kontron VX3230 based on the Freescale MPC8544 32-bit PowerPC processor.

With the multi-purpose Kontron VX3020 for high-end processing and the ultra low power Kontron VX3230 for dedicated processing tasks, Kontron launches its support for the broad spectrum of next generation high bandwidth, rugged applications that need to leverage the performance advantages of serial switched fabrics. These two Kontron VPX boards are the first members of Kontron's new family of VPX products based on the VPX standard that brings maximum serial bandwidth over the backplane to ultra rugged applications. Further boards are already under evaluation and OEM customers can order full-featured VPX systems from Kontron today.

"VPX is a proposed ANSI standard which breaks out from the traditional connector scheme of VMEbus to merge the latest in connector and packaging technology with the latest in bus and serial fabric technology", declares Ray Alderman, executive director of VITA. "The support of global embedded vendors like Kontron will bring the advantages of VPX to a wide range of vertical markets and establish its position as a leading edge technology with a long term technology cycle."

The Kontron VPX CPU boards combine all the fundamental strengths of the VMEbus architecture such as robustness and excellent EMC with the new high bandwidth capabilities of the VPX connector for high speed differential signaling over the backplane. Moreover, both the Kontron VX3020 and Kontron VX3230 are available in Rugged Conduction-Cooled (RC) versions that support operational temperatures ranging from -40°C to +85°C according to VITA 47 recommendations. These features make the new Kontron VPX CPU boards ideal for a wide range of new real-time, data intensive and network-centric applications in the defense and aerospace industry as well as the transportation and other sectors that require reliable performance in harsh environments.

"Modern defense and aerospace communication applications are moving beyond the processing capabilities of VME", explains Norbert Hauser, Vice President of Marketing at Kontron. "The high-end Kontron VX3020 and low power Kontron VX3230 VPX CPU boards enable users to fully exploit the high bandwidth possibilities created by the new VITA 46 VPX standard for developing a wide range of next generation network centric applications."

The Kontron VX3020

Based on the latest dual-core 1.5 GHz Intel® Core(TM)2 Duo LV processor the Kontron VX3020 VPX CPU board offers high-end processing performance to meet a wide range of demanding signal and data processing requirements. With the Intel® 3100 chipset the Kontron VX3020 supports up to 2GB of DDR2 SDRAM and features all the high performance I/Os that are available on the latest laptop PCs such as the UXGA graphics controller with PCI-Express, two Gigabit Ethernet network interfaces configurable by software either on the front RJ45 connector or the rear VPX backplane connector, 3 x SATA-150 interfaces and multiple USB 2.0 ports. An onboard USB connector is able to support a standard USB Flash disk module. The Kontron VX3020 can also easily run high demanding PCI-based applications with support for high-performance and PCI software backwards compatible PCI-Express which is configurable either as x4 or quad x1 over the backplane.

The Kontron VX3230

For price sensitive applications that require the optimal balance between performance and energy consumption the ultra-low power Kontron VX3230 offers the 1 GHz Freescale MPC8544 32-bit PowerPC processor and up to 1 GB of DDR2 RAM on a 3U VPX board that has an extremely low power output of less than 10 watts. Like the Kontron VX3020, the Kontron VX3230 offers 2 x Gigabit Ethernet ports configurable on either the front or the back. Dual SATA-150 ports provide data storage options and there are 2 USB 2.0 ports on the rear. For application specific I/O expansions there is an optional XMC/PMC slot. Designed with safety in mind, the Kontron VX3230 offers dual boot storage, EEC memory and temperature sensors and can be used in redundant architectures.

The Kontron VX3020 and Kontron VX3230 VPX CPU boards are available now.

More information on the Kontron VX3020: http://kontron.com/products/boards+and+mezzanines/vpx/vx3020.html

More information on the Kontron VX3230: www.kontron.com/products/boards+and+mezzanines/vpx/vx3230.html

About Kontron

Kontron designs and manufactures embedded and communications standards-based, rugged COTS and custom solutions for OEMs, systems integrators, and application providers in a variety of markets. Kontron engineering and manufacturing facilities, located throughout Europe, North America, and Asia-Pacific, work together with streamlined global sales and support services to help customers reduce their time-to-market and gain a competitive advantage. Kontron's diverse product portfolio includes: boards & mezzanines, Computer-on-Modules, HMIs & displays, systems & platforms, and rugged & custom capabilities. Kontron is a Premier member of the Intel® Embedded and Communications Alliance and has been a VDC Platinum Vendor for Embedded Computer Boards 5 years running. Kontron is listed on the German TecDAX stock exchange under the symbol "KBC". For more information, please visit: www.kontron.com

PR online: www.kontron.com/about-kontron/news-events/kontron+launches+support+for+vpx+standard+with+two+new+vpx+cpu+boards.3410.html

All rights reserved.

Kontron is a trademark or registered trademark of Kontron AG.

Intel and Intel Core are trademarks of Intel Corporation in the US and other countries.

All other brand or product names are trademarks or registered trademarks or copyrights by their respective owners and are recognized.

All data is for information purposes only and not guaranteed for legal purposes. Subject to change without notice. Information in this press release has been carefully checked and is believed to be accurate; however, no responsibility is assumed for inaccuracies.

More from Controls & Controllers