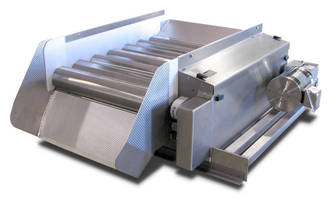 Press Release Summary: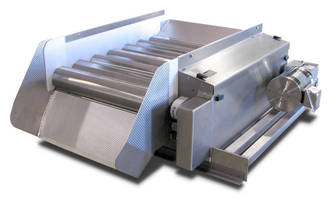 x
---
Original Press Release:

Key Technology Introduces Upgrades for Farmco Sliver Sizer Remover and Farmco Rotary Size Grader



February 18, 2009 - Key Technology introduces upgrades for its popular Farmco Sliver Sizer Remover and Farmco Rotary Size Grader. Featuring a food-friendly drive system and lube-free adjusting system made of corrosion-resistant, long-life polymer components, the upgrade eliminates rust and the need for constant oiling. Food processors upgrading their Farmco Sliver Sizer Removers and Farmco Rotary Size Graders improve sanitation and equipment reliability while reducing maintenance.

The upgraded drive system includes durable polymer sprockets, a corrosion-resistant chain, precision polymer bearing blocks, and a raised chain roller wear strip. The new drive system is virtually "run dry," requiring only an occasional touch of silicon spray lubricant. The oiler system is completely eliminated. The polymer bearing blocks are manufactured to extremely tight tolerances to assure precise and repeatable roller spacing adjustment. When a bearing is worn, simply replace the bearing insert and re-use the polymer pillow block.

The new lube-free adjusting system features polymer components that eliminate the need for internal lubrication. Unlike systems that require grease, which can harden with age and cause difficult and imprecise roller adjustment as well as maintenance problems, Key's new adjusting system enhances sanitation, reduces maintenance, and provides precise roller adjustment over a longer life.

The upgrade includes a new adjustment handle that folds flat to create a more open work environment and improve worker safety.

Farmco Sliver Sizer Removers and Farmco Rotary Size Graders can be upgraded in the field by Key service technicians or by the food processors' maintenance personnel being guided by Key's field installation manual.

Farmco Sliver Sizer Remover

The Sliver Sizer Remover removes targeted material using a series of stainless steel rollers. The size for separation, selected by the customer, is determined by the gap between rollers - targeted product falls through the rollers and exits beneath the machine, while remaining material moves on to downstream equipment over the tops of the rollers. The Sliver Sizer Remover is widely used for removing slivers, fines, and chips; precision sizing and grading; de-juicing and deseeding; and removing debris on processing lines handling apples, beets, carrots, celery, garlic, onions, peaches, pears, potatoes, tomatoes, zucchini, rehydrated dry beans, and other food products. It operates efficiently for small whole products and pieces such as cubes, dices, slices, wedges, fries, spears, sticks, and julienne strips.

Farmco Rotary Size Grader

The Rotary Size Grader removes short pieces, nubbins, loose seeds, and snipped ends of vegetables while conveying good product to downstream equipment. The rotary bed consists of a series of pocket rollers, each with a stainless steel shaft and specific combinations of patented rubber rollers and plastic disks that create the pockets. As the pocket rollers rotate, target-size product settles in the pockets and passes through the bed to be discharged under the machine. Ideal for small to medium size products to be classified by length or volume, common applications include french fry strips, cut and whole green beans, julienne vegetables, onion and bell pepper strips, and other products.

About Key Technology, Inc.

Key Technology, an ISO-9001 certified company, is a leading designer and manufacturer of process automation systems, integrated electro-optical inspection and sorting systems, and processing systems. Key® systems help processors to improve quality, increase yield, and reduce cost. With worldwide sales representation, the company maintains demonstration and testing facilities at its headquarters and manufacturing divisions in Walla Walla, Washington, USA, and at Key Technology BV in Beusichem, the Netherlands. The company's common stock trades on the Global Market tier of The NASDAQ Stock MarketSM under the symbol: KTEC.

More from Agricultural & Farming Products