Wurth Electronics IEEE802.3.bt LAN Transformer Featured in the Texas Instruments' (TI) High Power IEEE802.3bt PoE Smart Lighting Power Supply System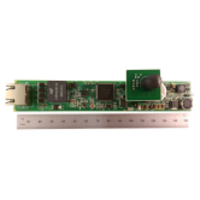 Watertown (USA), 23 March 2017 – Wurth Electronics is proud to have its transformer featured in Texas Instrument's new high power IEEE802.3bt power over Ethernet connected lighting power supply system.
Expecting publication in 2018, the IEEE802.3bt standard, also known as four-Pair PoE, will enable systems capable of delivering power at ~70W and broaden PoE's technology reach into new-end equipment, such as industrial controls and LED lighting.
The ability to control ballasts remotely has brought connected lighting applications into the era of the Internet of Things (IoT), and Wurth's small-sized and cost-effective mid-POE LAN transformers are optimized for these applications.
A demonstration of the IEEE802.3bt compliant PoE connected lighting power supply system will take place at the APEC conference in Tampa, Florida. Visitors can hear the technical presentation on Tuesday, March 28 at 4:00pm at Booth #811, at no charge.
For the full APEC speaking schedule, visit www.we-online.com/apec.
About Wurth Electronics Midcom, Inc.
Wurth Electronics Midcom is a global leader in the design and manufacture of custom magnetics. A standard line of magnetics is offered, including inductors, ferrites, chokes, and EMI shielding materials. Recently, the electromechanical and interconnect line was added to the product offering, which includes Board-to-Board, Wire-to-Board, Terminal Blocks, and Input/Output Communication.
Customers in Asia, Europe and the Americas are supported through a local direct technical sales network, regional design and applications engineers and manufacturing based in the People's Republic of China.
Our standard lines and custom-made transformers are used around the world in LED lighting, smart grid and utility metering, industrial controls, telecom (CPE and CO), home automation, and home appliances.
Wurth Electronics Midcom offers all catalog products in stock. Free samples are offered to customers on connectors and both catalog and custom magnetics.
Further information at www.we-online.com
Further information:
Wurth Electronics Midcom, Inc.
Lindsey Esche
121 Airport Drive PO Box 1330
Watertown, SD 57201 USA
Phone: +1 605 886 4385
Toll-free (in the U.S.): Phone: +1 800 643 2661
E-mail: lindsey.esche@we-online.com