Wisconsin Oven Ships Top Flow Conveyor Oven to Manufacturer In Machinery Industry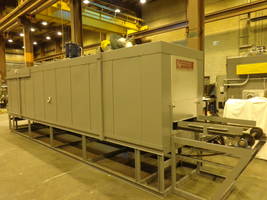 Wisconsin Oven Corporation announced the shipment of one (1) Electrically Heated Top Flow Conveyor Oven to a global manufacturer in the machinery industry. The oven will be used for curing "CPIG" material on plastic housings for electronic components.
The conveyor oven has a maximum oven operating temperature of 200°C and work chamber dimensions of 2'4" wide x 21'0" long x 9" high. The oven features a continuous chain style conveyor system.
This top flow conveyor oven has sufficient capacity to heat 1,000 pounds of steel and 600 pounds of plastic per hour from 21° to 150°C. To maximize heating rates and temperature uniformity of the product, top-down airflow was featured in this conveyor oven.
"This oven was a duplicate to a previous oven that this customer purchased for the same application, curing plastic housings for electronic components." – Gary Hanson, Senior Application Engineer
Unique features of this industrial conveyor oven include:
8,600 CFM @ 10 HP recirculation blower
72 kW heat input with SSR power control
400 CFM @ ½ HP exhaust blower
Adjustable sheet metal profile doors at both ends above the conveyor
Tongue & groove panel assemblies
Digital Eurotherm 3504 temperature controller
Digital Watlow PM6L oven high limit controller (with manual reset)
Continuous chain style conveyor system
300 parts per hour production rate
Sufficient capability to heat 1,000 lbs per hour of steel and 600 lbs of plastic
More from Fasteners & Hardware