Wisconsin Oven Ships Electrically Heated Composite Curing Batch Oven to Aerospace Industry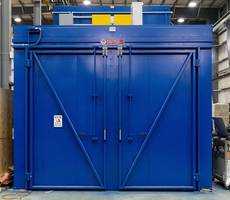 Wisconsin Oven Corporation announced the shipment of one (1) Electrically Heated Composite Curing Batch Oven to a manufacturer in the aerospace industry.
The batch oven will be used for composite curing parts and has a maximum oven operating temperature of 400° F. The work chamber dimensions of this oven are 10'0" wide x 38'0" long x 10'0" high. Guaranteed temperature uniformity of ±6° F at set points 150°, 200°, 250°, 300°, 350°, and 400° F was documented with a fifteen (15) point temperature uniformity survey in an empty oven chamber under static operating conditions.
This composite curing oven has capacity to heat 20,000 pounds of steel and 1,000 pounds of composite material from 80° to 350° F at an average rate of 0.1° F per minute. The oven features combination airflow, which provides both horizontal and vertical upward airflow. This maximizes heating rates and temperature uniformity of the product.
 "A spare parts kit was included with this oven, including easily replaceable wear items to have on hand to minimize downtime. Wisconsin Oven offers several different preventative maintenance services, including spare parts kits, systematic inspection, adjustment, and performance testing and analysis." – Nick Toci, Sales Engineer
Unique features of this composite curing batch oven include:
Temperature uniformity of ±6° F at 150°, 200°, 250°, 300°, 350°, and 400° F
Two 25,000 CFM @ 20 HP plug mounted blowers
Allen-Bradley PowerFlex 525 variable frequency drive with ethernet communication
528 kW heating system with zero-fired SCR power control
Bi-parting, side-hinged, horizontal swing doors
Allen-Bradley programmable logic controller
Tongue and groove panel assemblies
This composite curing oven was fully factory tested and adjusted prior to shipment from our facility. All safety interlocks were checked for proper operation and the equipment was operated at the normal and maximum operating temperatures. An extensive quality assurance check list was completed to ensure the equipment met all Wisconsin Oven quality standards.
Contact This Company Download Spec Sheet
More from HVAC