Wireless Musical Chimes Operate up to 500 Feet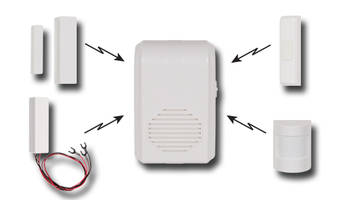 July 25, 2017 - Solve the problem of having to run wires with STI's commercial grade Wireless Musical Chimes. Quick and easy to install, they require no electrical wiring and no expensive through-the-wall drilling.
All units offer an exceptional operating range of up to 500 feet between transmitter and receiver - making it the longest range plugin chime in the industry. Select one of ten sounds (with multiple volume levels) with the push of a button.
Because they are compatible, numerous transmitters can link to the same receiver. Distinguish between front and back doors by selecting a different sound on each. UL/cUL Listed, FCC Certified, 433 MHz.
Four models are available:
STI-3350 - Wireless Doorbell Chime with Receiver (can also be used as a receptionist call button or for a loved one needing assistance)
STI-3360 - Wireless Entry Alert® Chime with Receiver (for doors, windows, cabinets, etc.)
STI-3610 Wireless Motion-Activated Chime with Receiver
STI-3300 - Wireless Doorbell Extender with Receiver
For more information on STI Wireless Chimes or the entire Stopper® Line,
Call 800-888-4784,
Fax 248-673-1246,
email info@sti-usa.com
Visit www.sti-usa.com.
Safety Technology International, Inc.
2306 Airport Road
Waterford, MI 48327-1209 USA
EUROPE
Safety Technology International, Ltd.
Taylor House
34 Sherwood Road Bromsgrove,
Worcestershire B60 3DR England
Related