AC Motor Controllers and Drives
Winning the Space Race - Beating the Heat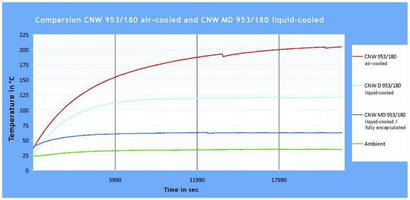 INDIANAPOLIS — Energy savings versus fixed-speed motor technology have enabled Variable Frequency Drives (VFD)* to make their mark across a broad spectrum of industries via fan, pump and other control applications.  Today an estimated 30%-40% of newly installed AC motors utilize VFD.1



Nevertheless, design engineers face heightened challenges ranging from cost pressures and space limitations, to product reliability and longevity issues.  The solution for many lies in bypassing traditional air-cooled drives for newer technology – liquid cooled VFDs – which, over the past several years have been emerging as the Next Big Thing.



"We're seeing a strong trend toward liquid-cooled VFDs for hybrid vehicles, HVAC, rail and marine applications, renewable energy, petro-chemical, food processing and more," reports Barbara Miller, Vice President of North American Operations for Indianapolis based component manufacturer REO-USA.  She cites two key advantages:



• Liquid cooled components can reduce drive space requirements up to 70% or more



• Liquid cooling drastically lowers component surface and/or housing temperatures



"Liquid cooling is a win-win-win choice for design engineers, manufacturers and their customers," states Rick Jones, REO-USA's Sr. Director of Engineering, who also brings extensive prior power conversion and power quality experience in manufacturing and engineering to his current position. 



"The space reduction versus air cooled devices enables engineers to design more-with-less into a host of new products, and/or retrofit more power into existing systems. Heat is the primary 'drive killer,' impacting reliability, performance and efficiency while shortening VFD life.  Properly designed liquid-cooled components dissipate and remove that heat, dramatically reducing stress on drive materials and extending life by as much as 50%.



"This is a huge advantage for virtually any manufacturer or end user.  Rail applications, for example, where decades of service can be anticipated.  From small appliances to heavy equipment, plant production lines, wastewater treatment and facility environmental control systems, drives that work years longer pay for themselves many times over."



Shrugging off environmental challenges; alleviating electronic noise pollution



Jones indicated protection ratings are another key factor in selecting liquid cooled VFDs.



"Especially in outdoor railway, marine, off-shore drilling, refinery and similar operations, drives have to handle whatever abuse Mother Nature and mankind provide. Look for a NEMA 4X protection rating; it verifies components' ability to withstand dust, sand, rain, sleet, freezing conditions and saltwater, you name it."



NEMA 4X, which REO-USA products carry, also means they're at-home indoors on applications - such as food processing lines - where numerous regulations govern activities, and wash-downs with disinfectants frequently occur.



What's more, Jones points out, in situations where harmonics are a concern – HVAC installations, clean power technology and the like – "make sure the VFD input terminal noise level is low enough to help drives meet the IEEE 519 standard for preventing interference between electrical components." 



Simply put, REO-USA resistors and reactors get the job done.



"Liquid cooled is one of our specialties," sums up Jones, noting that REO-USA's range of power offerings is the widest in the industry.



"We're an engineering company," emphasizes Miller.  "Along with manufacturing, our strength in this area enables us to collaborate closely with company product developers, to select application-specific drive components from our extensive array of standard options – and/or tailor - in some cases, fully customize - to precisely fit their needs."



Power is the key "range reference point" when choosing liquid cooled VFDs (e.g. range of currents for REO-USA's CNW MB liquid cooled line reactor is 100 – 1200 amps).  Miller says the greater your component supplier's "standard range," the better.



"Liquid VFD components within a provider's standard range help buyers stay within budget parameters. Time-critical deadlines can also more easily be met when your application-specific component is ready and waiting."



Choice of coolant for your VFD components is critical with some applications.  Options include municipal system-provided water, deionized water, glycol and aqueous solutions (ethyl or propylene glycol), saltwater, deionized distilled water or dielectic, non-conductive liquids.



"Ethyl glycol solutions, for example, make sense where freezing may occur," Miller notes.  "For food industry applications, however, you need non-toxic propylene glycol."



Various types of water cooling further match reactors and resistors to customer needs.



• Open construction with individual coils encapsulated, to collect heat directly at the source for removal from the component.



• Encapsulating the components on a metal plate with integrated cooling channels.  This permits pinpointed cooling for high performance, and ensures simple integration into existing cooling systems.



• Fully encapsulated components with "water pockets" – a design that combines efficient heat removal while also obtaining high protection ratings (e.g. NEMA 4X).



"In short, we can adapt standard-range products or customize liquid cooled components for virtually any specs imaginable. Today's 'custom' frequently becomes tomorrow's standard," Jones adds, noting that past years of collaborating with customers to match diverse applications has helped REO-USA continually expand its range of liquid cooled offerings.



All of which is helping the company generate a following not only among innovative product developers, but also system integrators.



Easily integrated system options; helping to keep 'power electronics' cool



A key consideration in VFD component engineering, Jones observes, is to ensure seamless integration into existing systems.  This is especially critical in applications where liquid cooled retrofits can lengthen the life of existing installations and/or provide additional power within their confines.



Then there's REO-USA's ColdPlate, a sub-structural component that can be used to cool an inverter, IGBTs (insulated-gate bipolar transistors), rectifier circuits or other power electronics. The ColdPlate includes a filter, reactor, resistor or combination, with a network of cooling channels that can be connected to a water cooling system.  Users simply mount the electronic devices on the ColdPlate for additional cooling.



"This further illustrates the diverse solutions available to design engineers and system integrators via liquid cooled VFD components," Jones emphasizes.



While most OEMs opt for individual components in a wide performance range for special drive systems, REO-USA also delivers complete VFD systems housed in control cabinets.  A switch cabinet system, for example, may incorporate an EMC filter, Line reactor, a Motor reactor and Brake resistor, plus cooling circuit, water distributor and electrical connection.



"From Input to Output and everything in-between, we're the only manufacturer in North America that offers it all," Miller asserts.  "Whether it's in a single system package - what we call REO Unity - or served a la carte, this makes life easier for drive component buyers as well as system integrators."



More-compact, more powerful VFDs that can last up to 50% longer and integrate easily:  That's the bottom line with liquid cooled.  And it's not just a lot of hot air.



* VFD: also referred to as adjustable-frequency or variable-speed drives, AC drives, micro or inverter drives

1 Lendenmann, Heinz et al. "Motoring Ahead". Retrieved Apr 18, 2012.



More from Optics & Photonics