Wilden® Original(TM) Metal AODD Pumps Help Optimize Pulp & Paper Manufacture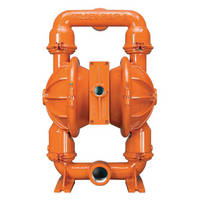 Grand Terrace, CA - Wilden®, the worldwide leader in air-operated double-diaphragm (AODD) pump technology, has announced that its Original(TM) Series metal Air Operated Double-Diaphragm Pumps (AODD) feature a design that is ideal for demanding liquid-transfer applications that feature a large amount of solids. This robust design makes them ideal for use in the pulp-and-paper industry.

The pulp-and-paper industry is one of the world's most important and diverse industries. In addition to the manufacture of pulp and paper, the industry also encompasses tissue-making, containerboard and paperboard manufacture, box and carton manufacture, and bag and envelope production. All of these operations require a pump that can handle solids as large as 35mm (1-3/8").

The design of Wilden's Original metal pumps can conquer the challenges in pulp-and-paper manufacture because they feature a clamped configuration, lube-free operation and an Ultra-Flex(TM) elastomer option that ensures maximum solid's passage, maximum Mean Time Between Repair (MTBR) and pump reliability without sacrificing ease of maintenance.

The Original metal pumps also offer Wilden's patented Pro-Flo X(TM) air distribution system (ADS), which offers operational flexibility through the incorporation of a state-of-the-art Efficiency Management System (EMS(TM)). The EMS allows the operator to optimize the parameters required for specific applications. To better illustrate the many energy- and cost-saving benefits of its Pro-Flo X(TM) ADS, Wilden has created the See More Green program, details of which can be found at www.wildenpump.com/seemoregreen.

For more information on any of Wilden's AODD pump products, please go to www.wildenpump.com. Wilden is an operating company within Dover Corporation's Pump Solutions Group (PSG(TM)). For more on PSG, please go to www.pumpsg.com.

Jim Wilden, founder of Wilden Pump and Engineering Co., revolutionized the pumping industry when he invented the air-operated double-diaphragm pump in 1955. Since then, Wilden has created a line of distinctive pumps that have proven to be trustworthy solutions to pumping applications in a wide variety of industries. Wilden-headquartered in Grand Terrace, California, USA-is a member of Dover Corporation's Pump Solutions Group (PSG).

More from Communication Systems & Equipment