What Works with Web, also Works in Sheetfed Offset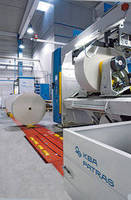 For more than 20 years Koenig und Bauer (KBA) has planned, produced and installed systems for paper logistics on commercial and newspaper web presses together with partner firms.



At the beginning the focus was on manual paper reel supply, however in recent years semi-automatic or complete computer-controlled solutions from the delivery of the reels up to waste removal have become increasingly more important. What works with web presses, also works with pile and pallet logistics in sheetfed offset. KBA experts from Radebeul and Würzburg offer their know-how and see substantial potential to increase productivity and reduce costs with logistic systems at industrial sheetfed print firms in particular which have a high material throughput.



The technology to automate processes at the reelstands, such as the loading and unloading of paper reels up to the disposal of residual reels and cores (= white waste), has long been a feature of cutting-edge printing plants. Unmanned, fully automatic reel loading (intralogistics) was the next step. If it makes sense for a specific plant, manual working processes, such as the splice preparation of reels, are decoupled from the actual production process either automatically or carried out by far fewer staff before production starts. The remaining personnel take over monitoring tasks or are implemented in other areas.



Patras A: automation from the truck ramp to the waste container



At the highest level of automation the process begins even at the delivery of the paper reels with automatic truck unloading. It continues with storage and retrieval within the main warehouse, supplying the daily store, automatic splice preparation, transport to and from the presses up to final waste disposal. However, selected storage technologies, transport and handing components may vary due to set structural conditions and priorities. For example, AGVs and underground conveyor systems could be implemented to enable automated transport. A continuous workflow and the control of the entire process via an intelligent warehouse management system are crucial. A connection to the enterprise resource planning system is also possible.



KBA offers custom-made automation solutions for integrated paper logistics under the name Patras A (= automatic Paper reel Transport System). The connected logistic solutions from KBA are tailored to meet specific requirements and do not distinguish between a paper reel and a pile.



From the reel to the pile



On the back of a host of successfully implemented logistic projects in web printing firms KBA also offers its know-how to large packaging and commercial printshops which have a high material throughput in sheetfed offset. The background is the goal of reducing personnel, lead times and costs in many areas. Many sheetfed offset users use subsystems for automated pile logistics. The economic potential technically possible is, however, not always exploited.



KBA as a general contractor for logistic solutions



The planning of individual automation solutions starts with the fundamental analysis of the respective production processes. On the basis of this an optimised production process is developed with the customer depending on the set conditions. In line with the motto "One face to the customer" KBA as a general contractor is able to offer everything from the engineering of single process steps up to complete logistic solutions with the automated connection of individual processing stations. Thus assembly sections, such as storage and rack technology, transport systems, pile turners and conveyor systems can be brought together in a customised complete package. Larger and complex projects are therefore more transparent in terms of costs and are faster to implement.



KBA Rapidas predestined for automated logistics



Medium and large-format KBA Rapidas with their automated pile logistics at the feeder and delivery in place at many firms and the automatic supply of sheet delivery with empty pallets also possible are predestined for the integration in an automated, entire logistic process. Today KBA Radebeul delivers flexible solutions for automated pile logistics (incl. pallet-free systems for substrates from 220 g/m²) under the name PileTronic. The automated supply of the delivery with empty pallets has also often been implemented in a raft of packaging printing firms. The press-control station is connected to the nonstop systems and the pallet feed in line with the goal of industrial production.



Advanced solutions from pile delivery, storage, pile turner, the press and post-press up to the dispatch ramp are available in various levels of automation with different storage solutions and transport methods. The implementation of a continuous workflow with interfaces to order management, enterprise resource planning and MIS systems is also possible. Such projects are already being discussed with large packaging printing firms. And it is only a question of time before AGVs, rollways and computer-controlled storage will replace pallet trucks and fork-lift trucks which are common in many sheetfed offset printshops.





More from Packaging Products & Equipment