Westermo Viper EN50155 Ethernet Switches to Be Installed in Stadler Trains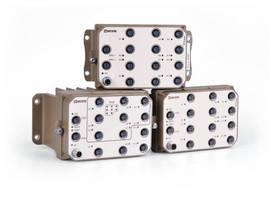 Stadler Pankow GmbH, Berlin has chosen to use Viper EN50155 vehicle switches from Westermo in next generation FLIRT trains.

Westermo has been selected as a supplier of data communications equipment for Stadler Pankow's new FLIRT trains (Fast Light Innovative Regional Train). Deliveries of Viper switches with and without power over Ethernet will begin in early 2013. The switches will be used to create the communications network for the train passenger information system (PIS).

Stadler offers complete vehicle concepts, but unlike other manufacturers, Stadler can provide solutions specially tailored to customer needs. Quality and experience are crucial in the rolling stock industry where reliability and long service life are vital. Westermo's lengthy and in deep experience as a supplier of on-board communication products to some of the world's most demanding rail car manufacturers, public transport authorities, system integrators and railroads was a key decision criterion.

Other key reasons for Stadler to choose the Viper switches were the unique IP train concept. The Westermo IP train concept delivers a complete Ethernet switching and routing solution providing a robust network infrastructure for the creation of intelligent trains. All products are compact in design and have a wide power range (24-110 VDC) making them suitable for installation in rolling stock applications. The Viper series is manufactured to not only meet but exceed the EN50155 standard and to ensure extended service life and ultra-reliable operation.

Additional information

Anders Felling, Managing director, Westermo Germany

Phone : +49 7254 954000

E-Mail: anders.felling@westermo.de

Mats Myhr, Product Manager

Phone :+46 16 428 000

E-Mail:mats.myhr@westermo.com

Press contact

Magnus Jansson

Phone : +46 16 428 042

E-Mail: magnus.jansson@westermo.com

Westermo provides a full range of industrial data communications solutions for demanding applications in the transport, water and energy markets among others. For more than 35 years Westermo has been at the forefront of technological development and often pushed the limits of what is technically possible. In order to provide the best possible support, we have local presence in more than 35 countries through our authorized distributors and own offices. Since 2008 Westermo has been part of the Beijer Electronics Group, a fast growing technology company with extensive experience of industrial automation, developing and marketing competitive products and solutions with focus on the user.

More from Optics & Photonics