Weatherproof, Pneumatic, NoTouch - STI has Your Solution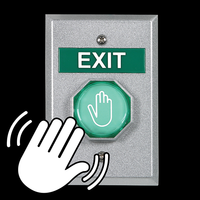 July 7, 2020 – STI has your solution for weatherproof, pneumatic, touch free or push activation buttons to ensure you have the right button, right now.
No hand sanitizer, no worries. With the increasing news and concern regarding COVID-19, decreasing the spread of the Coronavirus is of utmost concern and importance. STI's Universal Touch Free Button applies NoTouch® technology which helps eliminate the spread of germs. To exit a door, a person must simply wave their hand in front of the device. The infrared recognizes the motion and unlatches the door, preventing germs from transferring to hundreds of hands. Kit includes multiple color options and is easily installed.
Helping to further promote health and safety, STI's complete line of easy-to-use push buttons can be activated with an elbow.
The 2" weather resistant LED push button withstands the elements and is equipped with daylight visible illumination. Offered in six colors, with standard or custom phrases. Suitable for indoor or outdoor use without a protective cover.
With several activation choices, including pneumatic, STI's push buttons allow urgent reaction during an emergency. The multipurpose buttons are offered in red, green, yellow, white, blue or orange with standard or custom labeling. Optional illumination can be used as a status light, indicating activation.
Several tough polycarbonate protective covers with or without siren are available to help further protect against accidental or malicious activation, damage, and vandalism. Most buttons are listed to UL and cUL standards and are ADA Compliant.
For more information on STI push buttons or the entire Stopper® Line, call 248-673-9898, fax 248-673-1246, email info@sti-usa.com or visit www.sti-usa.com. STI's address is: 2306 Airport Road, Waterford, MI 48327-1209.
Contact This Company Download Spec Sheet
More from Software