Weather Monitoring for Conservation at Chicago Fish Barrier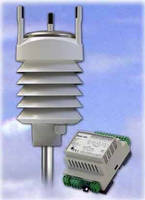 Migration of the invasive Asian Carp through the Mississippi River system into the Great Lakes has the potential to devastate native fisheries throughout the region. Smith-Root, an environmental engineering firm, has developed a proprietary technology for an electric fish barrier to prevent such migration. Their technology uses the most efficient electric field pattern for guiding the fish with minimal environmental impact.

In September 2011 Smith-Root installed an Orion 420 Weather Station at the Chicago 2A Fish Barrier. The weather station provides real time measurements of average wind speed, wind gusts, wind direction, air temperature, relative humidity, barometric pressure, rainfall, and solar radiation intensity. Using a Weather MicroServer (also from Columbia Weather Systems), data is automatically uploaded to the Weather Underground.

The primary use of the weather station is to gather wind and solar data for the purpose of evaluating the site for suitability of renewable energy production. As a conservation company, Smith-Root is not only interested in conserving the fish stock, but all our natural resources. The hope is that the CSSC site can generate electricity that is used by the fish barrier through the installation of wind turbines and/or photovoltaic panels.

Founded in 1964 and based in Vancouver, Wash., Smith-Root has long been a respected member of the aquatic resource conservation community supplying fish researchers, managers and hatchery personnel with quality fisheries sampling technologies and products.

Based in Hillsboro, Ore., Columbia Weather Systems manufactures weather stations for environmental monitoring applications around the world.


More from Packaging Products & Equipment