Waterjet-Cut AQ Steel Eliminates Material Deformation, Reduces Waste and Saves on Secondary Finishing Processes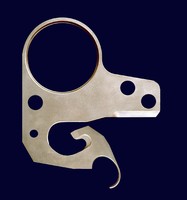 Kenilworth, NJ: Waterjet-cut AQ 4130 and AQ 4340 steel available from Benedict Miller features close-tolerance cut parts that exhibit outstanding performance and aesthetic characteristics that permit fabricators to eliminate time, cost, material handling and material waste.

The heat-free waterjet cutting process creates no thermal stress and yields materials with no deformation, tempering or structural change. Benedict Miller offers ready-to-use materials that feature smooth-walled, completely parallel cut edges containing no burrs and requiring no sanding.

Waterjet cutting reduces time, material handling and eliminates employee safety concerns relative to airborne contaminants and sharp edge handling that is required during finishing operations on traditional steel-cut or laser-cut materials.

For more information, please contact Mr. Ed Halpin; Benedict-Miller, L.L.C.; 123 N.8th Street; Kenilworth, NJ 07033-0040; Tel: (908) 497-1477; Fax: (908) 497-1480; benedict-miller.com.; halpin@benemiller.com.


More from Electronic Components & Devices