Walter USA, LLC Introduces Walter Valenite Tigerotec® Silver for Steel Turning Applications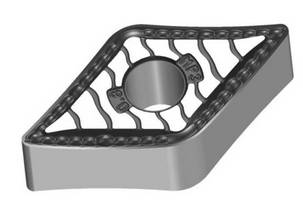 Three new grades and four new geometries allow the Tigerotec® Silver family of inserts to bring process improvements to nearly all steel turning applications.

Waukesha, WI - Walter USA, LLC has announced Walter Valenite Tigerotec® Silver for turning...a combination of three new insert grades and four new geometries developed in parallel that can boost the productivity of steel turning applications by up to 75%.

The Tigerotec® Silver advantage begins with a newly formulated aluminum oxide coating with an optimized microstructure that delivers superior resistance to crater wear and flank wear as well as to plastic deformation, considerably reducing machining times. A new coating post-treatment generates a residual stress rate that boosts coating toughness and ensures higher process reliability in mass production. The inserts also feature a new micro-edge technology that makes it possible, in some cases, to increase tool life by over 30%, and a new silver flank face for easier wear detection. In addition, the insert seating surface is ground after coating to ensure optimum seating in the toolholder.

This combination of advanced material and innovative design is especially realized in three new grades and four new geometries. The new grades are designated WPP10S, WPP20S, and WPP30S. WPP10S offers the highest temperature resistance and hardness. It has excellent wear resistance and is suitable for processes ranging from continuous cutting to minor interrupted cuts at very high cutting speeds. WPP20S, the medium-grade, is suitable for use as a universal cutting material for processes ranging from roughing to finishing, and brings exceptional reliability to automated production. WPP30S, the toughest of the three, brings maximum reliability to the most difficult applications, such as interrupted cuts and unstable conditions.

In addition to the three grades, Tigerotec® Silver for turning includes four new geometries developed in parallel and matched to one another to ensure that the complete range of steel turning applications is supported, reducing the number of insert types a user needs.

For facing and light cuts, the FP5's double V chip breaker provides reliable chip control during turning operations from 0.008-in. depth of cut. It has a positive, curved cutting edge to reduce the tendency to oscillate, thus allowing excellent surface finishes; and its undulating chip formers prevent chip packing in turning and facing operations.

The MP3 geometry excels at medium machining. Its cutting edge is ideal for machining forged parts such as gearwheels, ball joints, transmission shafts or cold pressed sheet components such as cover plugs or converter housings. The spherical design of the surface -- the so-called "bullet design" -- gives the chip greater rigidity for optimum chip breaking.

The versatile MP5 geometry was specifically designed for general machining. From smooth cuts to bar stock and interrupted cuts, the MP5 can handle them all with its versatile and stable "basket arch" design cutting edge. In addition, its reinforced chip breaker blades ensure better chip breaking and reduced tool wear.

The RP5 geometry is designed for roughing. The strong, positive 3° chamfer reduces power requirements and its open, deep and wide chip breaker groove generates a low cutting temperature, reducing wear.

In the area of steel machining, the new Tigerotec® Silver for turning has created a new dimension in productivity and process reliability. With this new development, it is possible to exploit the geometry and grade properties for longer tool life, shorter cycle times, higher process reliability and lower machining costs.

Walter USA, LLC offers an extensive line up of cutting tools for milling, drilling, turning, boring and specialized tooling for unique applications through its competence brands Walter Valenite, Walter Titex and Walter Prototyp. As well as multi-level service programs through its Walter Multiply brand. Headquartered in Waukesha, Wisconsin the company has a strong network of distributors and field engineers across North America. The Walter name is synonymous with productivity, thanks to more than 80 years of developing cutting tools and inserts that set new standards in production. Walter USA, LLC combines over 75 years of U.S.-based tooling production with long-standing traditions of quality and innovation.

Related