Wal-Mart Wave Packaged for Cross Country Transport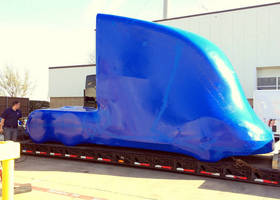 This past week, Protective Packaging Corporation developed a packaging solution to help ship the Peterbilt-made Wal-Mart WAVE (Wal-Mart Advanced Vehicle Experience) truck. Set to be revealed at a corporate function, the vehicle required a custom solution to keep it clean and fully concealed during transport.



To get the WAVE truck across the country on short notice, Peterbilt initially considered using a wooden crate – a cumbersome arrangement that would have cost nearly $10,000. Instead, the company turned to Protective Packaging to design an appropriate vessel that would get the truck to the event on time and in perfect condition.



Upon assessing the situation, Protective Packaging's On-Site Packaging Consultants recommended an opaque, blue shrink wrap material. The 7 millimeter thick material goes on quickly, protects from dust, bugs, ultraviolet rays, and general road debris, all while completely concealing its contents. The flexible packaging solution also proved to be vastly more cost-effective than alternative solutions; including labor, the cost was under $2,000.



The packaging team worked with Peterbilt engineers to apply the wrap, first laying it over the transport trailer and then backing the truck onto the trailer. Once in place, the packaging team pulled the shrink wrap around the unit and secured it, subsequently using a heat gun to shrink the material into a form-fitted cover.



"Our extensive expertise in packaging large and oversized objects makes us a natural fit for this project," said Jim Hiller, Senior Vice President of Protective Packaging Solutions. "We are happy we could deliver a quality solution within the time constraints."



Upon arrival, the WAVE concept vehicle will require no cleaning or refurbishment of any kind, eliminating a great deal of prep work before the big reveal. This is one of many examples of Protective Packaging's expert problem solving, a testament to the company's commitment to providing the best possible solution for each customer.



About the WAVE



The WAVE is a new concept in tractor-trailer transport that is designed to deliver more cargo using less fuel. Much of the metal in this vehicle has been replaced with lighter weight carbon fiber reducing the weight of the trailer by 4,000 pounds. Featuring a center mounted driver seat, multiple fuel options, a turbine, sliding door, and full size sleeper, the WAVE won't be in use anytime soon, but it highlights Wal-Mart's goal to improve its fleet efficiency by 2015.



About Protective Packaging



Protective Packaging Corporation is a flexible packaging converter producing barrier bags and custom covers for corrosion prevention and static shielding during shipping and storage. With over 25 years of experience developing packaging solutions for the US military, Protective Packaging Corporation has helped companies from a range of industries find the best flexible packaging solutions to preserve their products. The company carries a wide range of mil-spec compliant barrier materials available in rolls, sheets, tubing, bags and custom covers. The company's packaging consultants assist customers in addressing all forms of shipping needs, from protecting cargo during shipment to preserving items during long-term storage. For more information on Protective Packaging Corporation, visit http://www.protectivepackaging.net.



More from Machinery & Machining Tools