WAGO Kicks Off 2015 Innovation in Automation Tour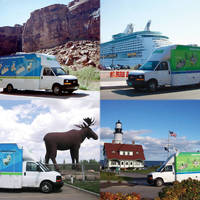 GERMANTOWN, WI – WAGO's Innovation in Automation Tour (IIAT) commences its eighth tour of North America.



Innovative mobile tradeshows, two IIAT vehicles will bring a range of Automation, Interface and Interconnect solutions to customers looking to enhance process efficiency and reliability. The vehicles feature new products, with interactive pick-and-play displays, free product samples and literature. 2015 updates include:



PFC200 - Performance-class advanced controllers with compact modular functionality

XTR - I/O for extreme environments with built-in protection against climatic influences, vibration, impacts and surge voltages

EPSITRON® - family of power supplies for a range of functions and applications

TOPJOB® S- range of rail mounted terminal blocks for industrial and hazardous applications

picoMAX® Pluggable Connector System with hand-held PCB demos

Free IIAT vehicle visits are staffed with Field Applications Engineers ready to offer personalized application consultation.

View the IIAT interior and request a stop: http://goo.gl/sOXgvi



About WAGO:



Innovation is at the heart of everything we do at WAGO. From our pioneering CAGE CLAMP® spring pressure connection technology to our extensive range of Interconnect, Interface and Automation solutions, such as the fieldbus independent WAGO-I/O-SYSTEM, our customers count on the unconditional performance and reliability of our products to ensure the safe, efficient operation of their systems every time.



For additional information, visit www.wago.us. Contact WAGO at 1-800-DIN-RAIL or info.us@wago.com.



More from Safety & Security Equipment