WAGO JUGO-NUTS: On-Site Interconnect Packaging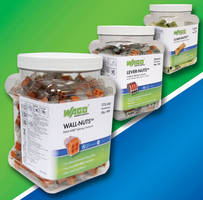 GERMANTOWN, WI - WAGO Corporation's new JUGO-NUTS provide electricians with a portable container carrying job-site quantities of WALL-NUTS(TM), LEVER-NUTS(TM) or LUMI-NUTS(TM) connectors. JUGO-NUTS, measuring 4 5/8'' square by 6 3/4'' high, are positioned between smaller Contractor Boxes and bulk carton quantities. The jugs feature a screw-top lid for on-the-job convenience in new construction, remodels, retrofits or specialty projects.

773 Series WALL-NUTS(TM):
No-twist, PUSH WIRE® WALL-NUTS(TM) reduce wiring times by up to 50% and minimize wrist strain, earning an OSHA recommendation. JUGO-NUTS quantities/model: 650 (2-wire), 400 (4-wire), 6-wire (250), 200 (3-wire #10).

222 Series LEVER-NUTS(TM):
LEVER-NUTS(TM) connect any type of copper conductor (12-28 AWG) with simple lever operation. JUGO-NUTS quantities/model: 350 (2-wire), 250 (3-wire) and 150 (5-wire).

873 Series LUMI-NUTS(TM):
LUMI-NUTS(TM) luminaire disconnects ensure safe ballast replacement. Units have a 20A current capacity and exclusive daisy-chain capabilities. JUGO-NUTS quantities/model: 200 (2-pole) and 100 (3-pole).

JUGO-NUTS are available from local WAGO Distributors, contact Factory for authorized Distributor.

WAGO is the leader in spring pressure connection technology that eliminates loose wires resulting from vibration and temperature cycling, while providing highly reliable, corrosion-resistant and maintenance-free connections. Products: DIN-rail, PCB and chassis mount terminal blocks; signal conditioners; the WAGO-I/O-SYSTEM and more.

For additional information, visit www.wago.us. Contact WAGO at 1-800-DIN-RAIL or info.us@wago.com.

Related