Würth Elektronik Offers Support for Developers of Charging Devices and Charging Stations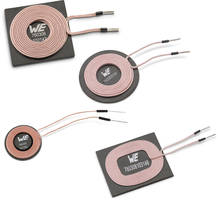 Charging e-bike batteries without a cable
Waldenburg (Germany), 3 September 2019 – Wireless battery charging is a comfortable and maintenance-free affair. Companies wishing to tap these advantages for the market of e-bikes and other small electrical vehicles can now turn to Würth Elektronik for development and component support. For many years now, the supplier of electronic and electromechanical components has been actively participating in many committees for the wireless power sector, and possesses one of the largest portfolios of coils for inductive power transmission worldwide. Besides standard solutions – for example according to the Qi standard – Würth Elektronik also offers solutions for many other applications, with a special focus on technology for charging battery packs for electric vehicles.
Würth Elektronik supports electronics developers in how to implement their in­dividual charging concepts. Besides providing expert know-how in the form of training seminars or on-the-spot development support, the company has also designed many development kits that help manufacturers to bring their products to the market more swiftly.
"When a battery pack is charged by cable, you have to reckon with between 2,000 and 5,000 plug cycles over the battery's life cycle. Especially because users generally recharge batteries that are not fully discharged on the go to ensure mobility, in many cases the charging sockets and plugs wear out faster than the actual batteries themselves," explains Sven Lerche, Business Development Manager New Mobility at Würth Elektronik eiSos. "Repairing charging sockets or charging devices is rarely an economically viable option, and wireless charging is an extremely attractive alternative. Then you've also got a number of other advantages like the high convenience factor, the fully enclosed design, and the insensitivity to environmental factors."
Würth Elektronik rebuts popular prejudices
Würth Elektronik emphasizes that three popular misconceptions about wireless power are unfounded – for example, that wireless charging suffers from a low electrical efficiency. When the recommended position of the device is even only roughly adhered to – an aspect that can be enhanced by the mechanical design – then the efficiency is about 95 per cent. What's more, the fear of getting an electric shock or suffering burns is also unfounded: the industrial standards prescribe an automatic switch-off device that cuts in as soon as a foreign body gets between the charging coil and the receiver coil. The technical effort required for this is minimal.
And wireless power is not expensive: the plug and socket are replaced by wireless power coils and a slightly more sophisticated electronics, which ultimately can even result in a cost-neutral solution.
About Würth Elektronik eiSos Group
Würth Elektronik eiSos Group is a manufacturer of electronic and electromechanical components for the electronics industry and a technology company that spearheads pioneering electronic solutions. The company currently employs 8,300 staff and generated sales of 848 million euros in 2018. Würth Elektronik eiSos is one of the largest European manufacturers of passive components and is active in 50 countries. Production sites in Europe, Asia and North America supply a growing number of customers worldwide.
The product range includes EMC components, inductors, transformers, RF components, varistors, capacitors, resistors, quartz crystals, oscillators, power modules, Wireless Power Transfer, LEDs, sensors, connectors, power supply elements, switches, push-buttons, connection technology, fuse holders and solutions for wireless data transmission.
The unrivaled service orientation of the company is characterized by the availability of all catalog components from stock without minimum order quantity, free samples and extensive support through technical sales staff and selection tools.
Through its technology partnership with the Audi Sport ABT Schaeffler Formula E Team and its support for the Formula Student racing series, the company demonstrates its innovative strength in eMobility (www.we-speed-up-the-future.com).
Würth Elektronik eiSos is part of the Würth Group, the world market leader for assembly and fastening technology.
Würth Elektronik: more than you expect!
Further information at www.we-online.com.
Further information:
Würth Elektronik eiSos GmbH & Co. KG
Sarah Hurst
Max-Eyth-Strasse 1
74638 Waldenburg
Germany
Phone: +49 7942 945-5186
E-mail: sarah.hurst@we-online.de
www.we-online.de
More from Machinery & Machining Tools