Vitronics Soltec Launches Enhanced XPM3i Reflow System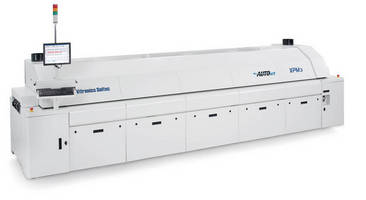 Stratham, New Hampshire, USA - Vitronics Soltec announces the availability of the enhanced XPM3i Reflow System, offering improved performance in terms of ease of use, and lower cost of operation. The new XPM3i features a patented atmosphere re-circulation system that delivers nitrogen savings of up to 50%. The XPM3i also can be equipped with a new Dual Lane, Dual Speed conveyor option for higher throughput and greater throughput flexibility for the high-mix processing environment. Additionally, new software features make XPM3i even easier to set up and use, with more powerful tools and features, and an even friendlier GUI.

The Vitronics Soltec XPM3 product platform has proven its capability worldwide and established a reputation for superior reliability. Robust design combined with a unique heat transfer system consistently deliver benchmark thermal performance, precise process control, and superior value for high production, 24 hours-a-day, 7 days-a-week environments.

Vitronics Soltec's XPM3i Reflow System is also equipped with the revolutionary new AUTOset(TM) fast setup feature. AUTOset(TM) leverages years of process knowledge developed in reflow profiling by Vitronics Soltec. AUTOset makes it possible for the manufacturing engineer to accelerate process development by generating a preliminary reflow recipe based on a PCB assembly's physical characteristics. The engineer can then 'fine tune' the preliminary recipe if needed. However, 85% of the time the engineer doesn't need to modify the auto-created recipe at all.

About Vitronics Soltec

Vitronics Soltec specializes in the design and manufacturing of mass soldering equipment for the global circuit board assembly market, and includes Reflow, Wave and Selective Soldering technologies. Vitronics Soltec designs and manufactures its systems in three facilities, located in Stratham, New Hampshire, USA; Oosterhout, The Netherlands; and Suzhou, China. Direct sales and support centers are located in the United States, Holland, Singapore, Malaysia, Korea and Shanghai. For more information about the company, visit www.vitronics-soltec.com.

More from Sensors, Monitors & Transducers