Vista System's Directories: Minimalism and Functionality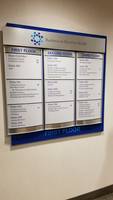 Vista System's directories were recently installed by Infinity Sign Company, at the Hackensack Meridian Health, NJ, USA.
Hackensack Meridian, being a modern medical practice and school, had a very specific look in mind: Clean Lined, minimalistic 3D wayfinding system, that incorporates their logo colors, complements the entire décor and allows for quick and easy graphics change, at little cost.
Vista System's curved frame directories, made up of a header and three windows for each floor designation, listing the different departments were mounted on backboards. Each structure includes a top header with the logo on a metal finish board completing the 3D layer effect.Infinity Sign Company also provided a custom typeface in the directories, with the same colors as the logo, creating uniformity throughout the space.
Patients and staff alike, arriving at this space, are instantly greeted by a wayfinding system that both represents Hackensack Meridian's branding and helps them find their way easily.
The project was completed within 3 weeks from concept to installation. Infinity Sign Company reported a remarkable cooperation and smooth handling from Vista System, from start to finish.
For further information, visit www.vistasystem.com or contact Client Service at Vista System, 1800 N East Ave. Unit 102, Sarasota, FL, 34234 USA .
Phone: 800-468-4782 (941-365-4646 Internationally).
Fax: 888-316-5198 (941-955-2681 Internationally). 
E-Mail: usa@vistasystem.com
Related