VICTREX PEEK Polymer Adopted by Aichi Tokei Denki for a Small Electromagnetic Flow-Sensor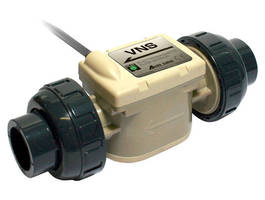 Victrex Japan (President: Richard Okupniak, company headquarters: Minato-ku Tokyo) providing high performance materials including VICTREX® PEEK(TM) polymers, VICOTE® Coatings, and APTIV(TM) Films, has announced that their VICTREX PEEK polymer has been adopted as the main body of the small electromagnetic flow-sensor "VNS series" developed by Aichi Tokei Denki Co., Ltd. (President: Noboru Suzuki, company headquarters: Nagoya-shi, Aichi), a flow-sensor manufacturer.

The small electromagnetic flow-sensor measures, according to Faraday's Law, the amount of fluid inside a tube by measuring the amount of electricity produced when the fluid moves through the tube. It is different from a mechanical flow-sensor using movable parts such as, a turbine or a float, and has excellent measuring capabilities without being affected by properties of unmeasurable fluid such as, viscosity, density, grime, and impurity. Furthermore, since it has a simple hollow design without any movable parts or obstacles blocking the flow of fluid, it does not affect the pressure and is highly durable, as well as, maintenance-free.

The VNS series developed by Aichi Tokei Denki is low cost, light weight/compact, and highly chemical resistant and is an innovative small electromagnetic flow-sensor able to accurately measure the pulse flow. Conventionally, due to the strengthen of withstanding the building pressure inside the tube, PPS polymers and stainless steel were used for the main body, but for chemical measuring applications, lower chemical resistance has been a problem among those materials. On the other hand, since VICTREX PEEK polymers have excellent mechanical properties, as well as, superb chemical resistance, it is possible to measure highly corrosive chemicals such as, sodium hypochlorite. Furthermore, the design of the main body of the sensor has been made simple, as well as, integral molding has been adopted in the production process, achieving a significantly smaller and lower production cost compared to the companies previous products.

Mr. Yoshida, Manager New Market Development Division, Aichi Tokei Denki has said "In general, it is difficult to accurately measure the pulse flow that changes depending on the amount and direction of the fluid. Since the VNS our company has developed has adopted high-speed sampling and a new calculation formula for measuring pulse fluid, it is able to accurately measure it without being affected by the properties and conditions of the fluid. We will position the VNS series as a flow-sensor and flow surveillance device and will increase our sales mainly in water treatment and semiconductor applications and as an alternative to electromagnetic flow-sensors in the future. Moreover, we are expecting demands for controlling the flow of fluid at purification plants, water treatment plants employing sterilization treatment systems, and plant manufacturers using chemical liquid injection systems and surveillancing gaslocks used in electromagnetic meter pumps."

About Aichi Tokei Denki Co., Ltd.:
As Aichi Tokei Denki celebrates its 110th anniversary in 2008, the company has been growing their business as a measurement device and sensor manufacturer, focusing on precision processing technologies as their core technology. The company wants to aggressively expand their overseas business and to deliver proprietary sensor products not only to Japanese customers but to overseas customers as well. For more information on products please visit the website at: www.aichitokei.co.jp

About Victrex:

Headquartered in the UK, Victrex plc is an innovative leading manufacturer of high performance materials, including VICTREX® PEEK(TM) polymer, VICOTE® Coatings and APTIV(TM) film. These materials are used in a variety of markets and offer an exceptional combination of properties to help processors and end users reach new levels of cost savings, quality, and performance. All Victrex material production comes under Victrex's ISO 9001 quality registration.

For more information visit www.victrex.com or victrex.mobi.

VICTREX® is a registered trademark of Victrex Manufacturing Limited. PEEK(TM), PEEK-HT(TM) and APTIV(TM) are trademarks of Victrex plc. VICOTE® is a registered trademark of Victrex plc.

More from Electronic Components & Devices